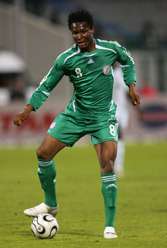 Chelsea have denied claims they induced Nigerian John Obi Mikel to break a contract between Norwegian side Lyn Oslo and Manchester United.
Responding to a report from BBC Radio Five Live which claimed that the two clubs wrote to Fifa in May 2005 calling for Chelsea to be punished, Chelsea deny any wrongdoing.
"Chelsea informed Fifa at the time that these allegations were without foundation," said an official club statement.
"The leaking of such fabrications some eight months later does not change Chelsea's position."
United and Chelsea have been in dispute over the 18-year-old since April 2005.
Mikel, who is currently playing in the African Cup of Nations, agreed a deal with United but later said he had been forced to sign and now wanted to join Chelsea.
The Blues' statement added: "Chelsea Football Club is aware that at least one copy of a private and confidential letter from FC Lyn Oslo and Manchester United to Fifa dated 18 May, 2005, that made unfounded allegations against Chelsea in the case of John Obi Mikel, has been leaked to the media.
"It is outrageous that private and confidential correspondence relating to proceedings before Fifa has been deliberately leaked in this way in an attempt to smear Chelsea's name and, more importantly, to undermine an active Fifa process and pressurise Mikel.
"As far as Chelsea is concerned this whole issue is a matter for Fifa, which is the correct and most competent authority to decide on it.
"Such proceedings involve Mikel, United and Lyn. Chelsea is not a party to those proceedings."
United want Fifa to consider imposing a transfer ban on the Blues as well as barring them from certain competitions.
Mikel revealed to the BBC that he would prefer to join Chelsea.
"Inside me I know where I want to go and I think Chelsea is the better place for me to be," he told Radio Five Live.
United and Lyn Oslo claim agents acting on behalf of Chelsea attempted to induce the player to break agreements he had signed.
Subscribe to World Soccer – The essential football magazine