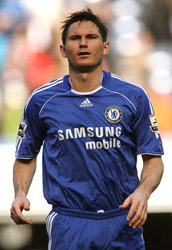 Gavin Beech is tipping Nani to find the net when Man United travel to Spurs on Sunday
Frank Lampard has admitted that Chelsea are suffering from a severe lack of confidence and hinted Ray Wilkins' exit has had a detrimental effect on the club.
After winning the League and FA Cup double last season, Lampard conceded the air of invincibility has now evaporated.
Since the defeat of Fulham on November 10, Chelsea have won just one league game and lost four, a run that has seen Carlo Ancelotti's side drop to fifth, nine points behind leaders Manchester United who also have a game in hand.
Assistant manager Wilkins left Stamford Bridge in November but Lampard refused to cite his departure as an excuse for Chelsea's slide.
Lampard told The Sun: "We won the double last year, all of us together including Ray. Ray is no longer here. But the club makes the decisions and, if Roman Abramovich wasn't here, we wouldn't have won three Premier League titles.
"Things are important off the pitch but we've been putting out a side good enough to beat teams we've lost against. What we can't do as individuals is use what happened to Ray as an excuse. We have to perform regardless.
"At the moment there's a bit of a feeling that we're not sure what's going to happen when we go out there. If we're honest we all think that. That's just the way it is. You can't help that. It won't change anyone's determination to want to win but you can't help but feel it as we haven't been winning.
Ancelotti has come under increasing pressure, with his team's form tailing off badly after they made a flying start to the season.
Worryingly for the Italian, Lampard compared Chelsea's current spell of poor form to that experienced prior to the dismissal of Luiz Felipe Scolari in 2009.
Lampard said: "The end of Scolari's reign was a bit like this. You lose the feeling of being able to win every week. Once you've had that and lose it, it's hard to get it back."
"We need to work in the same direction, follow the manager and, if we do, I believe it will turn. If we don't, it won't. This is a bad moment, make no mistake about it. We don't have to hide it any more. It has been a long enough time."
Gavin Beech is tipping Nani to find the net when Man United travel to Spurs on Sunday
Take advantage of the January sales by saving up to 36% on a subscription to World Soccer