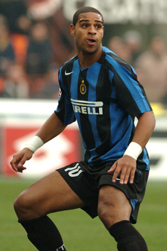 The agent of Brazilian striker Adriano claims that Chelsea have enquired about the availability of the Internazionale player.
Gilmar Rinaldi claims Chelsea owner Roman Abramovich personally phoned Inter president Massimo Moratti to enquire about the possibility of signing the South American.
"Adriano wants to stay at Inter, but there are big teams that have asked for him," he declared.
"The last team was Chelsea. From what I know, Abramovich called Moratti for that reason.
"Everybody knows about the interest of Real Madrid to which you now have to add that of Chelsea.
"I insist that Adriano is happy at Inter, but we will see what happens and if the teams manage to convince him."
Rinaldi added that Real Madrid were also interested in the striker.
It has been reported that Inter would be prepared to sell, but only if a club matches their valuation of the player, which at present stands at an astronomical €70m.
Chelsea boss Jose Mourinho claimed recently when questioned about an alleged meeting with Arsenal defender Ashley Cole, that he was in fact in Italy discussing with Adriano the possibility of a move to London.