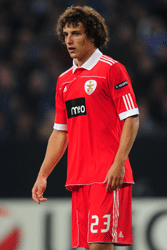 We're still on for a Barcelona v Real Madrid Copa Del Rey final – see the best outright betting here…
Benfica have confirmed that they have received an offer for Brazilian defender David Luiz from Chelsea.
The 23-year-old has been consistently linked with the Blues since last summer, with manager Carlo Ancelotti recently admitting his interest.
The Portuguse media previously announced that the deal reached on Saturday in London has been delayed due to differences over payment instalments, with a fee of £21million rumoured to be the fee Chelsea were prepared to pay.
But it appears that negotiations are still ongoing between both parties as they look to settle on a price for the Brazil international, who has a contract with Benfica until 2015.
"A negotiation process is currently ongoing and the market will be informed when it is completed," Benfica said in a statement.
We're still on for a Barcelona v Real Madrid Copa Del Rey final – see the best outright betting here…
Take advantage of the January sales by saving up to 36% on a subscription to World Soccer