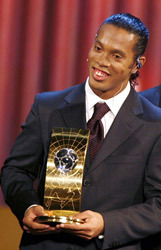 Barcelon's Ronaldinho has been named Fifa's World Player of the Year for the second consecutive season to complete a clean sweep of the year's major football awards.
The Brazilian gained 960 points in the poll of national coaches and captains to finish ahead of Chelsea's Frank Lampard (429 votes) and Ronaldinho's teammate at Barcelona Samuel Eto'o (190 votes).
Ronaldinho, named European Footballer of the Year and FIFpro Player of the Year earlier this month, said: "I want to dedicate this award to my teammates, without whom I would not be here."
"I also dedicate it to my family and also to God because he gave me the health to do what I love the most."
Ronaldinho is only the third player to have been voted world player of the year more than once, following his compatriot Ronaldo (1996, 1997 and 2002) and France's Zinedine Zidane (1998, 2000 and 2003).
Chelsea's Lampard said he was proud to be voted in the top three.
"It was my ambition to get to the top, but it seemed a long way away when I was younger," said Lampard.
"When I started at West Ham I was criticised because my uncle was the manager (Harry Redknapp) and my father was the assistant (Frank Lampard).
"This made me a stronger person and a stronger player – it's taken me ten years to answer the criticism through very hard work in training and playing."
Brazil were named team of the year after finishing 44 points clear of their nearest rivals in the rankings.
The Czech Republic were second, improving on their ranking in 2004 by two places.
Germany's Birgit Prinz took the women's prize for the third straight year, while referee Anders Frisk was given Fifa's presidential award.
FIFA president Sepp Blatter said of Frisk: "This extraordinary man was one of the very best.
"A couple of months ago this Swedish man of integrity decided to retire from refereeing, but not because he has reached the age limit and not because he had lost the joy and passion to be a referee.
"He resigned because he was a victim during a match, suffering unacceptable physical and psychological abuse."