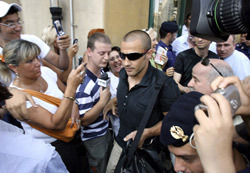 Europe's leading clubs are preparing to swoop on players affected by the Italian match-fixing scandal.
Real Madrid have confirmed their interest in signing Fabio Cannavaro, Gianluca Zambrotta and Emerson from Juventus with their new coach Fabio Capello hoping to rebuild the Spanish side around the players that helped him to win successive titles in Italy.
It was reported in Spain that Fabio Cannavaro had decided to sign for Real Madrid, disappointing Chelsea in the process. Cannavaro visited the yacht of club's owner Roman Abramovich, at the weekend. Cannavaro has phoned the Madrid coach Fabio Capello and said he would play for him again, according to the sports daily AS.
Manchester United manager Sir Alex Ferguson, who has been monitoring the situation in Italy, admitted it was "something we are addressing".
Liverpool manager Rafael Benitez said: "There are a lot of good players in these teams and they interest us."
Juventus, Fiorentina and Milan are set to be forced to sell many of their top players, with Chelsea and Arsenal also ready to become involved in plundering any bargains.
Chelsea have been widely tipped to sign Milan defender Alessandro Nesta, while the Gunners are reportedly interested in Juve keeper Gianluigi Buffon, although the Italian World Cup-winning keeper is believed to favour a move to Inter.
"His first priority is to continue to play in Italy," said Buffon's agent Silvano Martina. "He likes London as a possible destination but his desire is to continue in Serie A."
Another player reportedly bound for Inter is Manchester United target Patrick Vieira.
"At the moment, we are not exactly clear who is available and what the circumstances are," said United boss Ferguson.
"Some clubs might be looking at loan situations, believing they will get straight back into Serie A, so that is a possibility.
"But we also don't know whether players are available for sale or on free transfers."
Benitez is thought to be particularly keen on Juve striker David Trezeguet and winger Mauro Camoranesi.
"The players will be a better price now than they would have been three months ago," said the Liverpool boss.
"All the Juventus players are good, including Trezeguet.
"He didn't play much in the World Cup but that is because France have so many good forwards."
Juventus's new president Giovanni Cobolli Gigli has claimed that relegation to Serie B will not lead to a mass exodus.
"We are not a supermarket," he said. "The clubs that are interested in our players will have to pay in full."
"I hope that some of our important players will stay," he said.
"Obviously lots of them will find it hard to stay with us in Serie B with 30 points deducted, but the clubs that are interested will have to pay full rate.
"Should Real Madrid want our players, they will have to pay. That also applies to other teams who may be interested in our players, because we have the duty to defend the club's heritage."