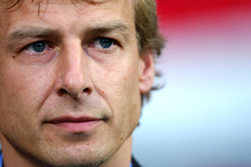 Germany managed to scrape a 2-2 draw against Japan, but the manner of their performance has given coach Jurgen Klinsmann the jitters on the eve of the World Cup.
The World Cup hosts found themselves two goals behind after Naohiro Takahara scored twice inside eight minutes to put Japan in charge.
Klinsmann's men responed late on, and after Miroslav Klose pulled a goal back on 76 minutes, Bastian Schweinsteiger salvaged a draw with his effort ten minutes from time.
However, the performance, coming just ten days before Germany kick-off the 2006 World Cup, was clearly a concern for Germany coach Jurgen Klinsmann.
"I'm worried because we reacted too late when we lost the ball," said a concerned Klinsmann afterwards.
"We had a lot of problems with Japan's fast game and gave them too many chances. Lehmann played a tremendous game and got us the draw."
"But I don't believe we're running out of time."
"We'll always make mistakes so our main goal is to minimise them," the German coach added.
"We gave them too many chances and that is something we need to discuss."
"On a positive note we showed great spirit to come back and the body language of the players was always good."
Klinsmann will not be happy with the way his side defended throughout the match, and Japan deserved their lead when Takahara skipped past two defenders before firing past Jens Lehmann.
Takahara added a second midway through the second half and Germany, who as hosts of the tournament carry a huge burden of expectation on their shoulders, looked in disarray.
Klose brought them back into the contest when he nodded in Schweinsteiger's 76th-minute free kick before the taker himself headed in four minutes later to secure a draw.
"It was hard, we are in the middle of preparations and it showed – our legs were tired. This is normal, we still have 10 days and the main thing is we came back," said Germany captain Ballack.
Japan's Brazilian coach Zico looked to have his side in great order and was happy with the performance.
"We developed our game very well and we led and that was very good, and we could have won," said Zico.
"We played many quick passes and had many chances and we could have scored more. We are at a good stage."
Germany play Colombia on Friday in Monchengladbach in its final friendly match before the World Cup, while Japan will be buoyed by a good display, as they prepare to face Brazil, Australia and Croatia in their World Cup group.