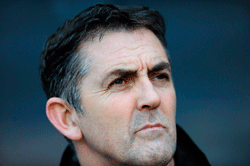 The African Nations Cup is now underway and we have all the best outright tournament and individual match odds.
New Bolton Wanderers manager Owen Coyle has denied suggestions he quit Burnley for the money, claiming his new job at the Reebok Stadium is an "exciting challenge".
Coyle was presented in front of the press on Monday morning after the two clubs finally came to an agreement over compensation on Friday.
"We know in football there's two things which happen to football managers: you do well and you move on or you don't and you're moved on," said Coyle. "I think that's what's happened. It's very emotional, but it's such an exciting challenge here and that's what we have to look forward to.
"The emotional attachment alone over the course of two years … but when all was said and done we tried to take the emotion out of it and make what we felt was a football decision. I understand totally the sense of hurt and disappointment the Burnley fans would feel.
"It's a natural reaction and I think it can't be lost on anybody what we did do over two years. When I came into the football club we were in the bottom half of the Championship. We pulled it all together and that's probably why I'm here. The job we did do catches other peoples' eye.
"I've never been motivated by money in my life. If it was finance I would have taken the job at Celtic in the summer. That is just a knee-jerk reaction from people that do not know me. I have an unbelievable challenge ahead here at this magnificent club, with a magnificent stadium, and I have to take that on.
"You want to be the best you can be and that's my motivation. I want to be involved at the highest level and the highest level in world football is the Premier League. There's no doubt about it, the best individual players in world football operate in the Premier League. You want to go and compete with the best in the business.
"Celtic were the team I supported as a boy and I spoke with Celtic in the summer. They offered me the job and I turned it down to stay at Burnley. I think that puts to bed anything about finances.
"If you look at the infrastructure of the club (Bolton), the academy, the training centre, everything is geared for top flight football and my job as manager is to make sure that happens. I must say, Burnley have still got a Premier League team as well. We really galvanised the club and took them to a level that is always going to be difficult.
"On balance I had to look at if we'd achieved survival, come the summer is there going to be that investment? I wasn't sure there was. In a transitional period I was trying to move things along quicker than finances would dictate.
"My message is the same as it always is to football supporters; come and support your football team. I'd say to Bolton fans come and support your team and get behind the lads.
Asked about his plans in the current transfer window, Coyle said: "First and foremost I have to be fair to the current squad. I've always felt the January window can be a an inflated market anyway so we'll have to look at that. If something is there that I think can improve the football club then it's something we'll look at."
Bolton chairman Phil Gartside has promised Owen Coyle funds in the transfer window if he wants to strengthen his squad.
Gartside said: "We have never not backed a manager in the transfer window. We have always done some business and it will carry on that way.
"I remember Owen's days at Bolton and he had two and a half fantastic years. It was special to me at that time not just as a director but as a supporter. We had some great cup nights and promotions.
"I think the fans will embrace Owen for what he is; he is a very bubbly character, he is infectious. He likes what he sees here and that is good enough for me.
"We hit it off right away and could have finished (our discussions) in five minutes. We did not have anyone else on the list. This was the only guy we wanted. You have to remember I recommended him to Burnley in the first place."
The African Nations Cup is now underway and we have all the best outright tournament and individual match odds.
Make sure you don't miss any of the last news and articles from World Soccer. Subscribe to World Soccer today and take advantage of our all 50th anniversary offer, saving up to 50%!