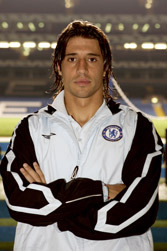 Help us with a Sport and Betting Survey! Click here to take part now.
Hernan Crespo has confirmed that he does not want to return to Chelsea at the end of the season.
The Argentine striker signed a two-year loan deal at Internazionale last summer, but Chelsea have the option to recall him after one year. With the Premiership outfit facing the prospect of losing both Didier Drogba and Salomon Kalou to international duty at next January's African Cup of Nations, there has been speculation that Crespo's will be recalled to Stamford Bridge as cover.
Jose Mourinho recently admitted that he was keen to bring Crespo back to Stamford Bridge, but the player hopes to stay at Inter.
"Chelsea have until 31st May for asking me to return. Just with sending a fax," he told the South American media.
"If they don't do that my loan at Inter gets renewed automatically.
"But if they want me to return we will have to have a conversation about that. That's why the less it is spoken about the better for me.
"At this moment Chelsea are totally concentrating on the next games of the Premiership so I don't think that they will be thinking of me but if they are they know what my opinion is."
Crespo admits he is indebted to Mourinho and Chelsea owner Roman Abramovich for letting him move to Inter.
"If I came to Inter it was because Jose Mourinho and the president did a personal favour for me, the striker continued. "I asked for this the day that Abramovich desired to renew my contract.
"He didn't want to let me go but in the end he understood what I was asking for.
"I know that they want me to return but I want to stay at Inter because of personal reasons.
"It's not true that I don't like England or Chelsea, it's because I have a personal decision of living in Italy because all my family is here.
" Help us with a Sport and Betting Survey! Click here to take part now.