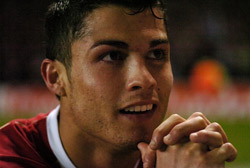 You have to go back sixteen head-to-heads between Spurs and Man Utd to find the last time the Londoners won. See all the BestPrice betting here.
Cristiano Ronaldo, star performer in Manchester United's Champions League triumph, is World Soccer's player of the year for 2008.
The Portugual winger was the clear winner in the 27th annual poll, with Barcelona's Lionel Messi second and Fernando Torres of Liverpool in third place.
Ronaldo is the first United player to win the individual prize, while last year's winner, Kaka, did not even make the top 10. Instead, five of the top 10 places are taken by members of Spain's victorious team at Euro 2008 – Torres, captain Iker Casillas, David Villa, Xavi and Marcos Senna.
Spain triumphed in the Team of the Year catagory, ahead of Manchester United, UEFA Cup-winners Zenit and Libertadores Cup-winners LDU Quito. African champions Egypt, who successfully defended their title last January, finished fifth and there was also recognition for the achievements of CFL Cluj, Hoffenheim and Anorthosis Famagusta.
Alex Ferguson won the Manager of the Year award for a record fourth time, a clear winner ahead of Spain's Luis Aragones and Zenit's Dick Advocaat. Egypt's Hassan Shehata, one of the few African-born coaches to manage a team at the Nations Cup, finished fourth, while Guus Hiddink's achievements with Euro 2008 semi-finalists Russia was recognised with his fifth place.
Lionel Messi was the clear winner of the Young Player award, ahead of Atletico Madrid's Sergio Aguero and Lyon's Karim Benzema.
Votes were cast from 45 different countries, again demonstrating the global nature of World Soccer's readership.
World Soccer editor, Gavin Hamilton, paid tribute to Ronaldo, Saying: "Congratulations to Cristiano Ronaldo, World Soccer's World player of the year for 2008. His elevation to the position of the world game's outstanding individual was hardly a surprise, but he deserves our applause nonetheless.
"In the year of a World Cup or European Championship, it is usually that competition's best player who cleans up with the end-of-year awards. Ironically, Cristiano Ronaldo was a relative flop at Euro 2008. But there can no doubting his talent, nor the entertainment that he has provided over the past 12 months.
"There was no one individual who can claim to have been the decisive figure in Spain's Euro 2008 triumph – hence the margin of Ronaldo's victory in the Player award. But the presence of five Spain players in our top 10 players of the year is proof that the European champions are worthy winners of the Team award."
Results
World Player of the Year   % of votes
1 Cristiano Ronaldo (Manchester Utd & Portugal) 48.4
2 Lionel Messi (Barcelona & Argentina) 15.1
3 Fernando Torres (Liverpool & Spain) 13.6
4 Iker Casillas (Real Madrid & Spain) 5.7
5 Xavi (Barcelona & Spain) 5.1
6 David Villa (Valencia & Spain) 2.1
7 Andrei Arshavin (Zenit St Petersburg & Russia) 1.4
8 Marcos Senna (Villarreal & Spain) 0.7
9 Franck Ribery (Bayern Munich & France) 0.6
10 Zlatan Ibrahimovic (Internazionale & Sweden) 0.5
Others 6.8
World Team of the Year
1 Spain 41.1
2 Manchester United 29.2
3 Zenit St Petersburg 9.1
4 LDU Quito 5.8
5 Egypt 4.4
6 CFR Cluj 1.2
7 Argentina 1.1
8 Hoffenheim 0.9
9 Russia 0.8
10 Anorthosis Famagusta 0.6
Others 5.8
World Manager of the Year
1 Alex Ferguson (Manchester United) 37.8
2 Luis Aragones (Spain) 28.8
3 Dick Advocaat (Zenit St Petersburg) 17.1
4 Hassan Shehata (Egypt) 3.5
5 Guus Hiddink (Russia) 2.8
6 Cesare Prandelli (Fiorentina) 1.4
7 Fatih Terim (Turkey) 1.2
8 Muricy Ramalho (Sao Paulo) 0.9
9 Phil Brown (Hull City) 0.8
10 Roberto Mancini (Internazionale) 0.5
Others 5.2
Young Player of the Year
1 Lionel Messi (Barcelona & Argentina) 44.2
2 Sergio Aguero (Atletico Madrid & Argentina) 20.1
3 Karim Benzema (Lyon & France) 10.2
4 Cesc Fabregas (Arsenal & Spain) 5.3
5 Anderson (Manchester United & Brazil) 2.8
6 Pato (Milan & Brazil) 2.1
7 Bojan Krkic (Barcelona & Spain) 1.4
8 Theo Walcott (Arsenal & England) 1.1
9 Sebastian Giovinco (Empoli/Juventus & Italy) 0.9
10 Carlos Vela (Arsenal & Mexico) 0.6
Others 11.3
You have to go back sixteen head-to-heads between Spurs and Man Utd to find the last time the Londoners won. See all the BestPrice betting here.
Get all the soccer news from around the world, subscribe to World Soccer and save.