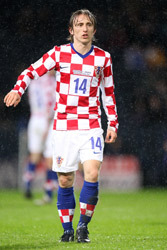 How has the Champions League group draw affected the outright betting? See all the latest here.
The president of the Croatian federation says the injury suffered by his country's playmaker Luka Modric has left him pondering whether Croatia's leading players are being deliberately targeted in the Premier League.
Vlatko Markovic spoke out after Modric suffered a broken leg playing for Tottenham against Birmingham at the weekend which will sideline him for around two months, with Croatia set to face England in a World Cup qualifier at Wembley on September 9.
It follows on from an even more severe injury suffered by Arsenal striker Eduardo – also against Birmingham – in February 2008 which meant he was unavailable when the sides met in the reverse fixture in Zagreb last September.
Markovic told The Sun: "First Eduardo, now Luka Modric. This is horrible. I can only ask myself if it was really an accident.
"I'm close to thinking it was done to us deliberately before the England match. I couldn't believe my eyes when I saw what happened to Luka. He is irreplaceable.
"Modric is the most important player of our national team. With him, everything starts and ends.
"Luka is for us as important as Andres Iniesta for Barcelona or Michael Ballack used to be for Bayern Munich. Without him we will be much weaker.
"There's nothing else we can do but keep our heads up and go on."
The Birmingham chairman, David Gold, strongly rejected Markovic's claims.
"He needs to go and have a lie down," he said. "His comments are absolutely idiotic. They are ridiculous and insulting.
"To say such things is little short of incredible. For a man of such stature and position in the game to come out with such rubbish is pathetic. His remarks border on paranoia and I struggle not to take it personally when they two incidents he talks about involve my club. To lay such stuff at Birmingham's door is appalling. It's emotive and doesn't stand up to close scrutiny."
How has the Champions League group draw affected the outright betting? See all the latest here.
For more fascinating features, subscribe and save 30% and use the below link?