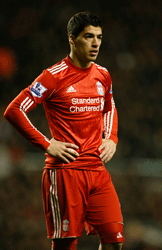 Inter Milan are a best price 1/2 to win at struggling Bari in Serie A tonight – click here for all the best betting
Liverpool boss Kenny Dalglish was impressed with the impact made by new signing Luis Suarez, revealing that the striker had not even trained with his new teammates before making his debut for the club on Wednesday.
"He had not even had the opportunity to train with us because of administrative stuff which had to be sorted out," said Dalglish after Liverpool's 2-0 win over Stoke City.
"When he starts training with the lads I think we might see an improvement.
The Uruguayan came off the bench and scored Liverpool's second goal fifteen minutes after coming on as a second half substitute.
"He has a big smile on his face every day. He's a happy and a good guy. It is a great start to score on your debut."
"He worked hard and him and Dirk Kuyt linked up well a couple of times."
Dalglish, who brought in Suarez and £35m striker Andy Carroll as his replacements for the departed Fernando Torres, praised the attitude of his players.
"It has been a busy week and we've been in the newspapers more than we would have liked to have been," added Dalglish.
"It is great credit to the players that they have not let it get to them and they've gone out and been magnificent.
"The supporters realise that there is a great group here who want to compete for everything and get as much as we can from every game."
Carroll remains a few weeks away from making his debut as he recovers from a thigh injury.
"You are starting to frighten some of the opposition," said Dalglish, when asked about the prospect of being able to play the new striking duo alongside Steven Gerard and Raul Meireles quartet together.
"They are four fantastic players. Andy is going to be a few weeks away from being fit but we bought him for five and a half years so a few weeks out of that won't do us any harm.
"Those four are really good footballers and they will complement each other very well."
Inter Milan are a best price 1/2 to win at struggling Bari in Serie A tonight – click here for all the best betting
Take advantage of the sales by saving up to 36% on a subscription to World Soccer