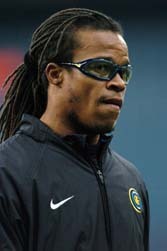 Edgar Davids is close to joining Tottenham from Inter on a free transfer.
"He is one of the most versatile midfielders, a playmaker, a ball-winner with great stamina and huge charisma," said Spurs head coach Martin Jol.
"It's terrific that he is joining us. He will lift the team's performance.
"We have a young squad with an average age of 23 and I believe Edgar will come in and lead by example.
"This is a player who went to Barcelona when they were middle of the league and took them close to winning the title."
Davids has also played for Ajax, Milan, Juventus and Barcelona.
Spurs coach Chris Hughton added: "It's something the club have worked very hard on behind the scenes over the last few weeks.
"Provided everything is okay he's certainly a wonderful addition to our squad. He's a very experienced international player who is still regarded as a top-class player.
"Certainly with what we've got at the moment it's a talented squad but also a young squad. To bring someone in with his experience blends in well for us."
Hughton is also confident Davids is bound for White Hart Lane – despite still needing to agree personal terms and pass a medical.
"To get to this stage and for the club to make the announcement we have, hopefully it's quite close," he said.
"Probably the thing that attracts him to the English game is he's very much a competitor, he works very hard in the middle of the park.
"He's not regarded as a goalscorer but he has a creative side to his game. In that area, to have an experienced international, an experienced head is invaluable to most sides."