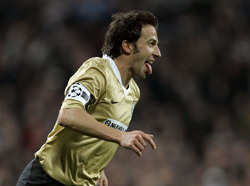 Save up to 33% on a subscription to World Soccer
Juventus captain Alessandro Del Piero has signed a one-year extension to his contract with the Serie A side.
The veteran striker, who will celebrate his 37th birthday in November, has been with the Old Lady since 1993.
Del Piero's current deal was due to expire in the summer but the extension means he will continue to play for at least one more season.
A statement on the club's official website read: "Juventus Football Club announced that it has renewed the contract of Alessandro Del Piero.
"The new agreement signed today by President Andrea Agnelli and the player is valid until June 30, 2012.
"The meeting for the signing was held at the New Stadium in the afternoon."
The Bianconero captain has made more than 660 appearances for the club and holds the all-time goalscoring record at Juve with 283 goals.
A World Cup-winning player for Italy in 2006, Del Piero has won five Serie A titles, four Italian Supercups and one Champions League crown with Juventus.