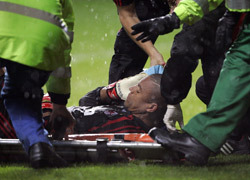 Test your Champions League knowledge and Win Free Bets! Click here for more info!
Milan goalkeeper Dida's two-match Champions League ban for feigning injury against Celtic has been reduced to one game.
The Brazilian will miss Wednesday's home game against Shakhtar Donetsk, but will be free to travel to the Ukraine for the return fixture in a fortnight's time.
The second match has been suspended for a one-year probationary period, UEFA said on its website.
Dida fell theatrically after initially giving chase to a Celtic fan, who had run on to the pitch to celebrate his team's late winner in a 2-1 victory on October 3 and appeared to make light contact as he slapped the Brazilian round the chest.
UEFA's disciplinary committee banned Dida for two games and fined Celtic 60,000 Swiss francs, half of which will be suspended for two years, for failing to keep the fan off the pitch.
Milan appealed the original sanction, saying the ban was excessive and the real villain was the fan.
UEFA's appeals commission have now Monday to halve Dida's suspension based on a paragraph in the regulations of European soccer's governing body stating 'players, officials and members shall conduct themselves according to the principles of loyalty, integrity and sportsmanship'.
Milan lawyer Leandro Cantamessa told the club's website: "After discussions, the decision was reached based on an agreement between the parties".
Dida stood in the centre circle and bowed to each corner of the ground before Sunday's 1-0 defeat by Empoli to apologise for his part in the incident.
The Celtic supporter, who identified himself to police the day after the match, was given a lifetime ban by the Scottish champions.
Test your Champions League knowledge and Win Free Bets! Click here for more info!