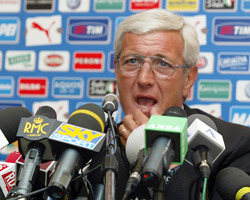 Marcello Lippi said Italy's achievement in reaching the World Cup final after their 2-0 victory over Germany fulfilled all his dreams as a coach.
"This is the realisation of a dream that has lasted a long time," said Lippi, after watching his side prevail in the closing minutes of extra-time.
"If there was a team that was going to win this game, it was going to be us."
The win carried echoes of Italy's 1982 World Cup run, when then, as now, the team arrived at the finals embroiled in a scandal that threatened to undermine their campaign.
The news that prosecutor Stefano Palazzi had recommended relegation for Juventus, Milan, Lazio and Fiorentina as punishment for the clubs' suspected involvement in match-fixing, was the backdrop to a dramatic win in Dortmund.
Thirteen of the Italy squad play for the four accused Serie A clubs and could soon be considering be looking elsewhere for employment. Twenty four years ago, it was Paolo Rossi, who had only just retrurned from a ban for match-fixing, who led the Azzurri to glory.
Lippi said: "Italian football is great football. It is very playful football but I will limit my comments to that.
"In my view we controlled the match. We played against 50,000 people – the German supporters were fantastic," he said.
"We scored two excellent goals – it was good that we avoided penalties because as you know, this is always a lottery.
"They should be proud of what they've done, proud to have respected all the love and enthusiasm that there is in Italy for them.
"We have already received congratulations from the Prime Minister Romano Prodi."
Lippi highlighted Del Piero's introduction as the moment the game changed.
"I was sure Del Piero would make an impact on the game," said Italy's coach.
"I looked at him very closely. I watched him before the match and I knew he was keen.
"When I sent him on, I said to my friends on the bench he would score the decisive goal.
"He really played such an important role and decided the match."
Del Piero said he felt privileged to have taken part in an enthralling encounter.
"It was fantastic to be part of a match like that," said Del Piero, who came on as an extra-time substitute.
"To win in their own backyard – there aren't any words that describe what I'm feeling right now.
"I've had some criticism recently, but I demonstrated that my desire is as great as anyone else's."
Grosso, who scored the first against Germany, said: "It has been a complicated tournament for us with everything that has happened back home, and I think we have proved what a great group we are.
"I am drunk with joy, I haven't got much to say only that it is a victory for a strong group of people."