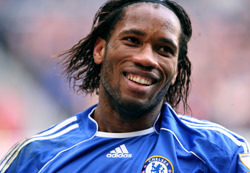 The FA Cup third-round draw has been done, with three all-Premier League ties. Click here for all the BestPrice FA Cup outright betting & draw – 3rd & 4th Jan
Chelsea striker Didier Drogba will not leave Stamford Bridge in January, according to the club chief executive Peter Kenyon.
Drogba reportedly met Inter representatives recently, sparking rumours he could join former Blues boss Jose Mourinho at the Italian club.
However, Kenyon insists the Ivory Coast striker will be staying at the club.
"Didier's under contract for the next 18 months," he told BBC Sport. "He will be going nowhere in January."
The Ivory Coast striker missed the start of the season with a knee injury and is now serving a three-match ban for throwing a coin back into the crowd during the Carling Cup defeat at Burnley.
Meanwhile, Drogba would only reiterate that he has a Chelsea contract until 2010, something Kenyon was also keen to stress.
"Whether people leave Chelsea is as much down to us as anybody else," he said.
"I don't know whether he did or he didn't (meet Inter representatives).
"But he's a big player for us and we want him back. He's one of those players who can make a difference."
Kenyon added that Chelsea were highly unlikely to buy any new players in the January transfer window.
"We never do because the types of players that we're looking for are normally unavailable in January," he said.
"They're either cup-tied or just not available."
The FA Cup third-round draw has been done, with three all-Premier League ties. Click here for all the BestPrice FA Cup outright betting & draw – 3rd & 4th Jan
Save up to £14 a year this Christmas when you subscribe to World Soccer