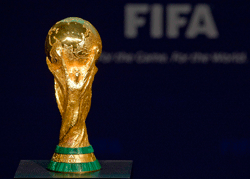 Liverpool, who are unbeaten in the Europa League this season, host Napoli at Anfield on Thursday – see the best football betting odds at Easyodds.
England's 2018 World Cup bid has been "significantly harmed" by a newspaper investigation into the bidding process, says a member of the campaign team.
A member of the FIFA executive committee previously claimed there would be no backlash against England.
But there are now fears within the England bidding team that Sunday Times probe into two members of the committee, has left England with a significant hurdle to overcome ahead of the vote on 2 December.
"It has significantly harmed England's bid," a senior member told BBC Sport.
But senior sources say that the prospect of any future media investigations into the conduct of FIFA officials – including a mooted Panorama TV programme on the BBC – could be fatal for their chances.
One member of the bid team told the BBC: "The question is: can we recover from this? Fifa members feel they are being persecuted by the British media.
"It isn't dead and the next two or three weeks will be delicate but England's bid has been damaged and it's going to take a lot of hard work to repair that damage."
One idea being touted by England's bid is to ask all the editors of the national newspapers and broadcasters to write to FIFA declaring their support for the 2018 bid.
Such a tactic was successfully employed by London's bid for the 2012 Olympics when organisers feared that a TV investigation could undermine the campaign.
FIFA's ethics committee is due to meet from 15-17 November to discuss whether to take further action against the two executive committee members – Amos Adamu from Nigeria and Reynald Temarii from Tahiti – who were accused in the Sunday Times expose.
Reporters from the newspaper posed as lobbyists for a consortium of private American companies who wanted to secure the World Cup for the United States. Adamu has been accused of asking to be paid £500,000 – half of that up front – to build four artificial football pitches in his home country.
Temarii, a FIFA vice-president who represents the Oceania confederation, was alleged to have requested £1.5m for a sports academy to be built in the region.
Both deny any wrongdoing and will contest the claims when they appear before FIFA's ethics committee later this month.
The committee will also consider claims made by the former FIFA general secretary Michel Zen Ruffinen that Spain and Portugal's bid team for 2018 has formed a voting alliance with Qatar for 2022 – a move which contravenes FIFA's bidding rules.
Bid leaders from Spain/Portugal and Qatar are refusing to comment officially on the allegations although the head of the Portuguese FA, Gilberto Modail has categorically denied the claims which Zen Ruffinen now says were an exaggeration to impress the reporters posing as American lobbyists.
The FIFA president Sepp Blatter signalled the start of a backlash against the British media last Friday when he said: "One can ask whether such an action is appropriate, trying to set traps for people. It is a deeply rooted problem [with the English media].
"Who is benefitting from this situation and who is being harmed, we are asking ourselves why did it happen and why did it happen specifically by English journalists? We are looking at that."
And the head of the Asian Football Confederation, Mohamed Bin Hammam,also criticised the British media.
He wrote: "Is it ethical to use unethical methods to protect the ethic? How will we clean dirty laundry by using dirty water?"
Liverpool, who are unbeaten in the Europa League this season, host Napoli at Anfield on Thursday – see the best football betting odds at Easyodds.
Make sure you don't miss any of the last news and articles from World Soccer. Subscribe to World Soccer today and take advantage of our all 50th anniversary offer, saving up to 50%!