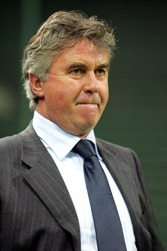 Premiership leaders Liverpool get back to league business this Saturday with a trip south to Portsmouth. Click here for latest odds!
Russia coach Guus Hiddink admitted that the clinical finishing of Michael Owen was the difference between the two teams following England's 3-0 victory in Wednesday's Euro 2008 qualifiers.
Owen's first-half double helped England on their way and although Russia carved out a number of chances they lacked a cutting edge up front.
Hiddink had no doubt about where the game was lost.
"You can say the 3-0 score is too high, but it reflects the difference between the two teams," the Dutchman said.
"We tried to go forward and play attractive football but England were very effective in taking the chances they created.
"We did not have the final pass or touch to make England very frightened. Just after half-time we had one or two occasions. That makes the difference – if we could have made a goal then, they might have started to panic a little bit.
"This Russia team is still in development and it is good to have these games, but it is a tough lesson for them. We were a little bit naive."
Hiddink declined to criticise the referee over his decision to disallow a Russian equaliser shortly after the opener, Konstantin Zyryanov being adjudged to have handled the ball.
"I want to see the images to have a fair and clear judgement about the referee's decision," added Hiddink. "But it was a pity. It would have been a very good reward because we were pressing and they were panicking at that stage. It was key in the game."
The defeat leaves the Russians in third place in Group E, two points adrift of England with three games left to play.
"We get them now in Moscow in October and they have to face Croatia as well. It is a tough qualification group and it will be decided at the end, not in September.
"We have to win in Moscow, that is for sure. Of course we are confident at home as we were tonight in various parts of the game."
England boss Steve McClaren acknowledged his debt to Owen, who took his tally of international goals to 40 from 85 international appearances.
"Never write him off – I said that weeks ago," McClaren declared. "He's now scored in his last four games. He has come back fitter and sharper. It was not just his goals, it was his all-round play, dropping in and linking up. He was working hard and the partnership with (Emile) Heskey has really worked over the last two games."
"We said at the start of the ten days that we wanted six points and I'd have taken two scrappy 1-0 wins," McClaren said. "But I'm greatly satisfied by the performances.
"We'll enjoy this but we know we've still got three games to go and we can get better."
Premiership leaders Liverpool get back to league business this Saturday with a trip south to Portsmouth. Click here for latest odds!