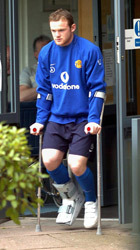 Wayne Rooney will undergo a scan on his broken metatarsal on Thursday with the results being eagerly awaited by England medical staff as they look to set a return date for the striker.
The results are not expected to be available to England's medical staff until Friday and team doctor Leif Sward has to inform FIFA by Tuesday if he expects Rooney to recover in time to take part in the World Cup.
FIFA's chief medical officer Dr Jiri Dvorak said: "Each team physician has to confirm by May 30 that their players are physically and mentally fit to participate in the World Cup.
"If Wayne Rooney is on the list then that is, in principle, confirmation that it is anticipated he will have recovered in time to participate in the tournament."
Every player involved at the tournament will undergo a range of tests to determine their fitness for the forthcoming date, after which they must submit their final squad lists.
FIFA say they view this as a statement of intent that a player will be available to take part in the tournament, although if Rooney broke down again Sven-Goran Eriksson would have until June 9 to replace him in the squad.
Despity optimistic noises made in the English media, Rooney is still likely to be a month away from kicking a football in competitive action. That would rule him out of England's group games against Paraguay, Trinidad & Tobago and Sweden.
He is, however, optimistic that he will be able to join the rest of Sven Goran Eriksson's squad when they fly out to Germany on Monday week.
Meanwhile, Rooney's club Manchester United, have been anxious to stress that the player's rehabilitation will not be affected by the sacking of the club doctor Mike Stone on Tuesday.
"Dr Stone has left after a difference of opinion on a non-footballing and non-clinical issue," said a club statement.
"It had nothing to do with any medical treatment to a United player."
United manager Sir Alex Ferguson has been playing down Rooney's hopes of playing in the World Cup while England doctor Sward has adopted a more positive approach.
Earlier this week Sward claimed Rooney was making "a perfect recovery".