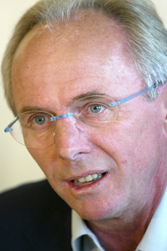 Athole Still, the agent of former England coach Sven-Goran Eriksson, is reportedly part of a consortium keen on buying Aston Villa.
Still held talks with Villa officials on Wednesday, after local businessman Michael Neville submitted a bid of about £64m for the Premiership club.
Neville says he has lined up a manager should he win control of the club, expected to be Martin O'Neill.
American billionnaire Randy Lerner has pulled out of the running but a group of Arab businessmen are allegedly interested in buying the club.
Earlier this year Still and Eriksson were caught in a tabloid sting when they held discussions with an undercover reporter in Dubai.
The News of the World published Eriksson's admission that he would consider becoming manager of Aston Villa if there was a takeover of the club.
Just days later, Eriksson agreed he would leave the England job at the end of the World Cup.
Lerner withdrew from the battle after holding talks with Villa chairman Doug Ellis.
Lerner, the owner of NFL team Cleveland Browns, was reportedly angry with the way Ellis handled negotiations.
A separate consortium led by lifelong fan Michael Neville had earlier submitted a £64m bid for the club.
Neville bid unsuccessfully when Ellis put the club up for sale last season but has since gathered new backers.
Aston Villa has confirmed it has received "a number of indicative offers" for the club and in a statement to the London Stock Exchange, the Villa board said it "will be appraising these" and "will update shareholders and supporters when appropriate".
Ellis, who owns a 39% stake in Villa, is believed to be prepared to sell his stake, but he wishes to remain involved in the runnning of the club.