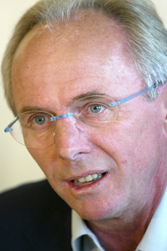 Former England coach Sven-Goran Eriksson has been appointed the new manager of Manchester City.
The Swede has signed a three-year deal worth a reported £9m – and is set to be given a £50m transfer fund.
Eriksson has succeeded Stuart Pearce, who was sacked at the end of last season.
Eriksson's appointment was confirmed after former Thai prime minister Thaksin Shinawatra's finally too ownership of the club after buying more than 75% of City shares.
"I'm delighted and honoured to be City manager. It's an exciting challenge," the Swede told the club website.
"I've already started making preparations for the new season. I want to deliver a team that our fantastic fans can be proud of."
Eriksson said the opportunity to work in the Premier League convinced him to tale the job at Eastlands.
"There are two main reasons why I took this job," he continued. "One is that City is a big, big football club.
"Another is the Premier League. I think it is the best league in the world and if you have the opportunity to work in this league you should take it.
"I have and I and very happy. I am looking forward to an exciting season.
"I couldn't care less if I was second, third of fourth choice to be City manager, I am here and the job is mine."
"Did I really do so bad with England?"
Despite coming in for severe criticism during his time as England boss, Eriksson his record stands up to scrutiny.
"Did I really do so bad with England?" Eriksson asked.
"I am not here to talk about England or the FA but about the future. My job as England manager is history.
"I would never have accepted this job if I thought I couldn't do a good job here. I am sure that in the future we will see City higher up the table.
"It would be better to have more time but cannot do anything about that," he said. "I am sure we'll have a very good squad when the season starts.
"I can promise you will see new faces in the team when it does.
"A lot of players around the world would like to play for City as they know this club will get bigger.
"The current squad is good. One thing I think is very, very good is that we have six players from the academy in the squad.
"That's important, That's something to build on for the future."
Eriksson is convinced City are a club with enormous potential.
"I have only just signed a contract, it is too early to discuss that. Lets see what we can do in the transfer market and then we will talk about targets," he admitted.
"But the target is to be up there. We will be competitive."
It is believed Tord Grip will again be the Swede's second-in-command.
Grip was Eriksson's number two during the former Lazio, Sampdoria and Benfica's six-year tenure as England manager.
Roland Anderson, who is currently Sweden's assistant manager, is also expected to join Eriksson's backroom team.
The club's chief executive, Alistair Mackintosh, said: "I'm delighted that Sven has agreed to join the club as we move into an exciting new era.
"His vast experience of managing top clubs to success around Europe is one of the qualities that attracted us to him.
"He also knows the Premier League inside out during his time as national team manager."