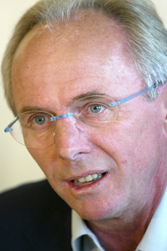 Sven-Goran Eriksson has arrived at Manchester City's Carrington training ground to meet the players for the first time.
The former England coach has agreed a three-year contract in principle last week to take over as City's manager.
He will not be formally unveiled as boss until City's prospective new owner Thaksin Shinawatra has assumed control of the club.
Eriksson will succeed Stuart Pearce, who was sacked at the end of last season.
Eriksson has been out of football since leaving the England job after the 2006 World Cup, but he admitted an announcement about the City post was imminent.
"We will see on Wednesday. I would prefer to speak on Wednesday," Eriksson said when quizzed by reporters.
Asked if he will be meeting representatives from City, he replied: "I think so. If you wait until Wednesday you will know everything."
Former Thai Prime Minister Shinawatra currently has a 65.78% share in the Premier League club, but needs to acquire 75% of the shares before he can complete his takeover and take the club off the stock exchange.