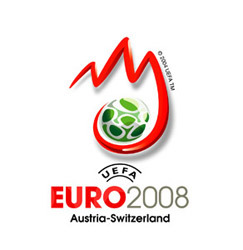 Spain thrash Russia 3-0, so it's Germany v Spain in the Euro 2008 final this Sunday. See the outright betting here.
After a captivating tournament that has been high in quality and refreshingly low in controversy, tonight sees the culmination of a glorious Euro 2008 with a fitting final in Vienna between two of football's most powerful nations.
Despite the undoubted individual excitements offered by the earlier group and knockout stages, nothing can match the anticipation stirred by this climatic encounter. For the two teams and their players it offers that rare and privileged chance to write themselves into the folklore of their respective nations and into the annals of football history.
On paper the tie offers an intriguing clash of styles, ideologies and stereotypes: the pace, flair, verve and passion of the Spanish against the grit, efficiency, determination and traditional ruthlessness of the Germans. We have a young Spanish team, desperate to redress a generations-old national discrepancy in the balance between undoubted ability and the winning of titles, of which there have not nearly been enough. And we have a German side, eager to prove itself capable of continuing their nation's sporting tradition of triumph when it counts most against a more fashionable, dashing and critically acclaimed opponent – an occurrence that has already happened several times too often in the eyes of the romantic neutral.
There is however, a shadow hanging over the preparations due to the possible absence through injury of two of the tournament's biggest stars. Spain forward David Villa, the top goalscorer of the finals so far, is struggling with the thigh injury that he picked up in last week's 3-0 semi-final win over Russia, while Germany skipper Michael Ballack is also a doubt with a calf strain. Of the two it is Villa who is rated the more doubtful to play, though Ballack's injury could also yet rule him out. It would be a cruel disappointment if the final was robbed of both of these brilliant players,
Devastating Blow
The impression is that Ballack's absence would be the more devastating blow to his team's chances of success, despite Villa's goals. The Chelsea midfielder has been crucial to his side both on and off the pitch this summer, performing brilliantly in the quarter-final victory against Portugal and providing real leadership in the aftermath of the shock group stage defeat by Croatia. In a team containing a mixture of promising youth and solid experience he is the one established world class player at the peak of his career. Coach Joachim Low must be praying that the positive noises coming out of the German treatment room are well founded.
Germany were the pre-tournament favourites and the pick of many knowledgeable pundits ahead of the finals, but have been a model of inconsistency so far. Three good performances against Poland, Austria and Portugal have been tempered by dismal displays in their other two games. They paid the price for not turning up in the middle group game against Croatia in the form of a deserved defeat, while in the semi-final against a severely depleted Turkey they were extremely lucky to win.
Much will therefore depend on which Germany will turn up in Vienna tonight. Those with decent memories will allude to the fact that this German team, much like those of generations past, seem to thrive when they are underdogs, which they certainly are this evening despite their own skinny pre-tournament odds.
After their fallibility was exposed in the group stages, nobody expected them to defeat Portugal in the quarter-finals but they did, and convincingly so. Germany, and their predecessor in the form of West Germany, have a history of upsetting the form book in big tournaments – look no further than the 1954 and 1974 World Cup finals for hard evidence. In both matches they were faced by teams considered by the masses to be the rightful winners, the proponents of football in its most stylish and dazzling form – and in both matches, against the odds, Germany emerged with the spoils. Tonight they are faced with a similar conundrum in the form of a Spain side who had us all reaching for the superlatives after a scintillating second half performance against Russia last week in the semi-final.
Caution and Paranioa
Yet if the history book offers comfort to Germany, for Spanish supporters it will offer only caution and paranoia. While the Germans are looking to extend its relevance the Spanish will be aiming to rip it up.
It has been well documented that Spanish football has produced 25 winners of European club football's premier competitions, yet has produced just one national team, some 44 years ago, capable of winning a major trophy. In between Spain have been to just one other major final, which they lost to hosts France in Euro 84. To illustrate the historical difference between the two sides, this will be Germany's thirteenth major final and, if they are victorious, their seventh title.
However, if the focus is left to tonight only, to a one-off game of football on paper, then it is the German fans who will surely be the more cautious. This morning Europe's major newspapers are full of comparisons between the two line-ups, with almost all of them giving Spain a significant advantage in every position. It's easy to see why.
In goal, Spain's Iker Casillas has been one of the tournament's star turns, while his opposite number, Jens Lehmann, has looked well past his best at 38 years of age.
Spain's defence is combination of athleticism, in the form of Sergio Ramos, strength and decisiveness in the form of the centre halves Puyol and Marchena, and unfussy, positional surety in the form of the left back, Joan Capdevila. At full back the Germans are possibly a collective match for Spain, but the German central defensive partnership of Mertesacker and Metzelder glaringly lacks pace and mobility. Their job tonight could be made easier by the absence of the quicksilver Villa, but the pace and power of Fernando Torres is likely to cause them plenty of problems. He is unlikely to be bullied by the German pair, who compensate for their lack of pace with sheer size and strength.
Both teams are likely to start with one main forward, Spain with Torres and Germany with Miroslav Klose. Both are top class players, with Torres coming off a superb debut season in the English Premier League and Klose a proven scorer at more than one major tournament in the past. Torres is certainly the more industrious and versatile of the two, and he will pull into wide positions regularly to offer an outlet and provide space for Spain's interchangeable attacking midfielders to exploit. With Lukas Podolski and Bastian Schweinsteiger offering the Germans greater midfield width than that enjoyed by Spain, Klose will play his normal game of sniffing out chances in and around the penalty area.
It is in midfield that Spain have won most people's hearts, with the Barcelona duo of Xavi and Iniesta effortlessly complemented by Valencia's David Villa. All three are technically gifted, blessed with great vision and offer a goalscoring threat, and all are also more hard-working than they are given credit for. Behind them sits Villarreal's Marcos Senna, a contender for the most unsung but effective player of the whole competition, the insurance policy that enables the three more advanced midfielders to express themselves in the opposition half.
In the likely absence of Villa, Arsenal's Cesc Fabregas is likely to resume the role as second striker behind Torres that he filled to such devastating effect in the second half of the semi-final. Despite starting just two games his is the name on most people's lists as the star of the tournament so far, a billing he could well cement further with a starting berth tonight of the one of the biggest stages of all.
Therefore much rests on Ballack's fitness and his presence, or not, in the German midfield. Torsten Frings is an able companion for the skipper and he will need to be at his best in the holding role to nullify the threat of Fabregas. The other midfielders will be facing the biggest game of their careers to date. Podolski, a converted striker, has been effective but inconsistent on the left wing, with the same analysis applying to Schweinsteiger and Thomas Hitzlsperger. Of the three of them it may be Schweinsteiger who will assume most of the responsibility if Ballack fails to make the kick-off. Only time will tell if his young shoulders are broad enough to carry him and the rest of his team.
"No-one remembers the runners-up"
"I have told my players that no-one remembers the runners-up," Spain coach Luis Aragones told the media on Friday.
Aragones, who will be 70 next month, was celebrating a move to Atletico Madrid as a striker in the summer of 1964 when Spain last won a major title. He is better equipped than most in putting into context Spain's dearth of success, and it will be apt if a man who has witnessed all the ups and downs in Spanish football since their last title leads them to glory tonight.
"We face a Germany side who are very good and can cause us problems. They do not play a fluid game like us but are very good on the counter attack. We must also look out for them at set-pieces but we will be ready. We want to give our people something to celebrate after all this time in the wilderness."
Germany coach Joachim Low is realistic about the threat posed by the Spanish midfielders, and recognises that his team are underdogs – something he believes could unsettle Spain. He has half-emerged from predecessor Jurgen Klinsmann's shadow by taking his team to the final, and will hoping to step out from behind it permanently by lifting the trophy.
"Spain have been the best and most consistent team here," he said on Saturday.
"They seem to have no weaknesses and most of their players are used to playing in the Champions League under pressure. We have not been at a high level permanently but have showed signs of our class. Now that we are in the final the pressure is off. Spain are expected to win and we can enjoy it more than them – this could work in our favour."
By Mark Robinson
Spain thrash Russia 3-0, so it's Germany v Spain in the Euro 2008 final this Sunday. See the outright betting here.