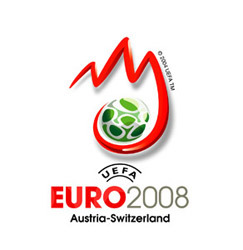 Italy only just scrapped through the Group stages, but they have never lost to Spain in a competitive tournament. Click here for the latest Spain v Italy odds!
Quarter-final
Croatia v Turkey – Vienna – Kick-off: 19:45
The Ernst Happel Stadium in Vienna will provide a glorious backdrop for today's second Euro 2008 quarter-final, as Croatia and Turkey battle for the right to meet last night's victors Germany in the last four.
Last night's classic encounter between Germany and Portugal lifted the already lofty standard of football at this competition to new heights, and fans across the continent will be hoping for more of the same this evening in one of Europe's most cultured cities.
It is only the third meeting between the two nations since Croatia joined FIFA in 1992. Easily the most significant was the game at Euro 96, which the Croatians won 1-0. It is worth noting that the current Turkey coach Fatih Terim was also in charge of the team back then during his first spell as boss, while the Croatia coach Slaven Bilic was playing at centre half.
Will this prove to be an omen for this evening's crucial match? Whatever happens, history will be made – both teams have never progressed beyond the quarter-final stage, a fact that has to change tonight.
Bilic and his team have won many friends and admirers over the last two years and his rise to the top of Europe's coaching tree has been meteoric. Winner of 44 caps for his country as a player, Bilic took over the national side in 2006 following a successful spell in charge of the Croatia U21s. He took with him his backroom staff of former national team colleagues Aljosa Asanovic and Robert Prosinecki, and they have quickly turned Croatia into one of Europe's best teams.
Self-confidence
Their blend of youth, experience, technical ability, tactical awareness and supreme self-confidence proved too much for England in the qualifying campaign. A 2-0 victory in Zagreb left the English press bemused, baffled and embarrassed, but the Croatian players proved it was no fluke by winning 3-2 at Wembley – a match that was meaningless to the already qualified Croats but of fatal significance for England and their now departed former coach, Steve McClaren.
The customary myopic, fist-waving post mortem was conducted by the English media in the aftermath of the defeats, yet most English fans and journalists failed to see the simple truth – that, for all of England's considerable shortcomings, Croatia are a marvellous footballing side. Having vanquished the Germans in the group phase, a result that looks all the more impressive following Germany's convincing defeat of Portugal last night, even the most cynical of doubters are beginning to recognise the quality of Bilic's men.
There is a togetherness about the Croatians on the pitch, which reflects the bond that the players have with their coach and his backroom staff. Some of the older players in the squad, such as the Kovac brothers, played in the national team with Bilic and his assistants during the late 1990s, while the younger players have been mentored and guided by them for several years through their initial involvement with the U21 side.
Their style of play directly reflects their coach, a qualified lawyer who is fluent in four languages and plays the guitar for a rock band in his spare time. The music and the earring that he proudly wears wherever he goes suggests that he possesses an artistic and whimsical streak to go with his obvious intellect, focus and passion for his embryonic nation. On the pitch the Croatians display the same qualities via their fluid movement, adventurous technique, steely determination and the self-belief that they are important guests at European football's most exclusive party.
They have undeniably got stronger as the tournament has progressed. A nervous victory against co-hosts Austria in their opening match was followed by the glorious triumph over the Germans, while their 1-0 victory over Poland was arguably equally impressive due to the fact that Croatia were already qualified, Poland had to win to stand any chance qualifying for the knockout stage and Bilic rested nine of his best players.
The result proved two things – Bilic's ability to motivate fringe players and the strength in depth of the Croatian squad, something that was questioned by almost all sections of the media before the tournament.
Croatia will be comfortable favourites for tonight's match, in which Bilic is likely to revert to the side that beat Germany last week. He will be hoping that the elegant, Tottenham-bound midfielder, Luke Modric (of whom Bilic claims only Kaka is superior in a playmaker role), will maintain his excellent form, and that the much-travelled Hamburg striker Ivica Olic can continue to deputise superbly up front for the absent Eduardo of Arsenal.
The defence should also not be ignored – with only one goal conceded in the group stage, only Holland's record stands comparison to theirs. The only injury doubts, concerning wide men Ivan Rakitic and Darijo Srna, have been allayed.
"We're not complacent and we won't stop," Bilic told the press on Thursday after being asked if he was satisfied with his team's progress.
"It is our intention to go as far as possible. Of course we are under pressure and the pressure is rising, but it is a positive pressure and we welcome it. It can only motivate us."
Bilic also had a word of warning for his players with regard to tonight's opponents and their never-say-die attitude, which helped them overcome huge odds in their final group match, a dramatic 3-2 win over the well fancied Czech Republic.
"Turkey's results and the manner in which they achieved them shows how strong they are," he said.
"They have good morale and they don't give up. It is praiseworthy, but it also shows they have a weakness. Nobody wants to trail in every game and have to come back."
Rollercoaster
As Bilic recognises, it is Turkey who have taken their fans on the biggest rollercoaster thus far at the finals. They fell behind in each one of their Group A matches, failing to turn the tide in an opening defeat to group winners Portugal but coming back from increasing peril in subsequent games against Switzerland and the Czechs.
The latter game, which they needed to win to guarantee qualification, saw them overcome a 2-0 deficit and the sending off of goalkeeper Volkan Demirel in the last fifteen minutes to defeat their more fancied rivals 3-2. The match has already been dubbed 'The Miracle of Geneva' by the German press and has been the most dramatic of the finals so far.
As with the Croatians, the Turkish squad are a reflection of their manager, the pugnacious Fatih Terim, who is enjoying his second stint as national team boss. He is a determined former captain of Turkey, and his motivational skills are well known throughout Europe thanks to his stints as a manager in Italy's Serie A, his four consecutive league titles at Galatasaray in the late 90s and his defeat of Arsenal Wenger's Arsenal in the 2000 UEFA Cup Final, when Gala became the first Turkish club to win a European title. Terim is likely to return to club football after the finals, and it will be no surprise if he winds up at one of Europe's biggest clubs.
The Turkey coach has several top class players to choose from for tonight's match, though suspensions to midfield Mehmet Aurelio and the goalkeeper Demirel will cause him a slight headache. Colin Kazim-Richards, once of Bury and Sheffield United, could well be given his first start in place of Aurelio, while the veteran goalkeeper Rustu Recber may replace Demirel – becoming the oldest player ever at the European Championship and winning his 117th cap in the process. Turkey have eight players one yellow card away from suspension and the squad have received more cards than any other at the finals so far.
With injuries to four of his other players, including the experienced and influential midfielder Emre Belozoglu, Terim will no doubt be pinning his hopes of progression on his forwards. Fenerbahce's Semih Senturk, Sanli Tuncay of Middlesbrough and Villarreal's Nihat Kahveci have all impressed, while Galatasaray's goalscoring midfielder Arda Turan has been a revelation. All will need to be on song this evening if the Turks are to have any chance of making the semi-finals for the first time in their history.
"We will have no excuses," Terim told the media on Wednesday.
"It doesn't matter who plays at the back, in midfield or up front. What's important is how the players perform, not the names on their shirts. All our injured players are important to us, but their replacements are equally so."
"For once we hope that we can start the game well, but if not we are ready for 90 minutes, 120 minutes or penalties, and we have lost none of our bravery."
By Mark Robinson
Probable teams:
Croatia: Pletikosa; Corluka, R Kovac, Simunic, Pranjic; Srna, Modric, N Kovac, Rakitic; Kranjcar; Olic
Turkey: Rustu; Altintop, Emre Asik, Gokhan Zan, Hakan Balta; Mehmet Topal, Kazim-Richards, Arda Turan, Tuncay; Nihat, Semih
Referee: Roberto Rosetti (Ita)
Italy only just scrapped through the Group stages, but they have never lost to Spain in a competitive tournament. Click here for the latest Spain v Italy odds!