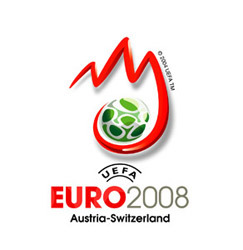 Spain took the tournament by storm after beating Russia 4-1, but will face a tougher task against Sweden this Saturday. See all the BestPrice betting here.
Group D
Spain v Sweden – Innsbruck – Kick-off: 17:00
Spain will be looking to build on their impressive opening to Euro 2008 when they face Sweden in Innsbruck.
Spain's 4-1 defeat of Russia was arguably the most impressive performance by any of the leading contenders thus far, but they will not find it easy against a Swedish side who have already defeated the reigning champions Greece.
Spain coach Luis Aragonés was in good spirits ahead of today's game. Asked by a Swedish journalist about pictures of Sergio Ramos in an Innsbruck disco during the week, Aragones made light of the incident.
"It was his day off! You're just lucky you didn't catch me in the disco too," said a jovial Aragones. "I like disco music, but prefer flamenco. I was worried you were going to show me something worse!"
Aragones was also quizzed about his relation ship with striker Fernando Torres, who looked unhappy at being substituted during Spain's opening game.
"I had a chat with him but there has never been a problem," he said. "Sometimes you build a paternal relationship with players and I've been with him a long time, but he's only been in my sides on merit."
The Liverpool striker also played down reports of a rift with the coach.
"I was angry with myself and it isn't true that I refused to shake the coach's hand," he said.
"Luis was six metres away from me, we weren't that close and I would never show any disrespect to a coach.
"I know that I can't get angry for more than 30 seconds when I've got team-mates next to me who didn't play [in the game] at all."
Aragones highlighted the aerial threat posed by Sweden.
"Sweden have got big lads who win the ball in the air, so we must cut their supply," he said.
"I think our left side is in great shape. David Silva can play anywhere across the pitch and Joan Capdevila could be a central defender, a wing-back, a midfielder, and he gives you goals."
While Spain are likely to select the same eleven as against Russia, Lagerbäck must make a decision over the fitness of Zlatan Ibrahimović.
"The good news is that he felt no pain after the last match or in training," said the coach. "His work with Henrik [Larsson] is top quality and Henrik is back at this tournament simply because he still fulfils every criterion of the modern international striker."
Lagerback has stressed to players that they must maintain their concentration against a dangerous Spain side.
"What we've learned over the last couple of years against Spain is that, if your focus slips, they will hurt you, said Lagerback. "Give them the ball and drop our concentration and they will play like they are the best in the world. That's what happened when we lost [3-0] in Madrid but I don't expect that again."
Midfielder Sebastian Larsson may make his first Euro 2008 start in place of Christian Wilhelmsson, who is out of the tournament after picking up a hamstring injury in the 2-0 victory over Greece.
Niclas Alexandersson will also miss the match because of a calf injury. Defender Fredrik Stoor could therefore start for Lars Lagerback's side.
Victory for either side would effectively see them guaranteed a place in the quarter-finals.
And Sweden defender Olof Mellberg says his side will be going for the win, despite Spain's impressive performance in their opener.
"We need at least five points to qualify," said Mellberg. "Normally a draw is good against Spain, but with a victory we would be already qualified.
"But Spain will also think this because the last game in the group is always difficult. There is always a lot of pressure."
Spain took the tournament by storm after beating Russia 4-1, but will face a tougher task against Sweden this Saturday. See all the BestPrice betting here.