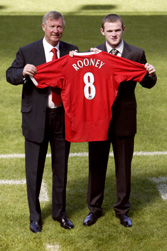 Paul Stretford, the agent representing Wayne Rooney, has been charged by the Football Association over his acquisition of the player.
The charges relate to an alleged breach of the Fifa players' agents regulations and FA rules.
Stretford has until 1 July to respond to the charges levelled at him.
Stretford was accused of misleading a court in October 2004 after charges were dropped against three men who he claimed were blackmailing him.
But the prosecution said information showed that Stretford misled the court by making false statements while giving his evidence.
Stretford is alleged to have broken FA and Fifa rules by failing to:
a) protect the interests of his client
b) respect the rights of his negotiating partners and third parties and
c) refrain from any action that could entice clients away from other parties
Rooney later joined Manchester United in August 2004.