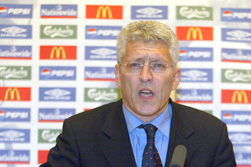 Mark Palios has resigned as chief executive of the Football Association – despite claiming he did nothing wrong by having an affair with FA employee, Faria Alam.
England coach Sven-Goran Eriksson is also alleged to have had a relationship with Alam and news of Palios' resignation is bound to increase speculation about the England coach's position.
The chief executive's decision came as the News of the World said it was offered details of Eriksson's affair in exchange for keeping quiet on Palios.
Eriksson faces an investigation by the FA's executive board on Thursday.
He has denied misleading or lying to his employers over his relationship with Alam.
Palios said in a statement on the FA's website on Sunday evening: "I am very sad that I feel this is necessary.
"It has been a privilege to be chief executive of the Football Association but with privilege comes the burden of responsibility.
"And it has been important for me to take ultimate responsibility for everything the FA has done in good times and bad.
"Personally, I do not accept that I have been guilty of any wrongdoing.
"But it has become clear to me that my action tonight is essential to enable the Football Association to begin to return to normality. "
"When I joined the FA it faced many serious challenges.
"A lot of very good things have been achieved in the past 13 months. I have had the privilege to work with an outstanding leadership team.
"For the time being, I intend to keep any further thought to myself."
Media boss Gibson claimed the FA was aware of his attempts to negotiate with the News of the World.
After his offer to quit, he said: "I have offered my resignation to the [FA] board because I felt it was the honourable thing to do.
"They said the matter will be dealt with as soon as possible."