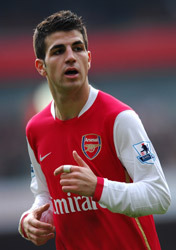 Cesc Fabregas has poured scorn on speculation that he is considering quitting Arsenal.
Fabregas, 20, signed an eight-year deal last year but with the recent sale of Thierry Henry to Barcelona, there were suggestions that the Spanish international might wish to return to his homeland.
However, Fabregas told The Sun: "In 10 days I'll be back training with Arsenal, my team. I'm staying in London."
Last week Fabregas' agent dismissed claims that Henry's departure along with the ongoing uncertainty over the future of manager Arsene Wenger, had unsettled his client.
Joseba Diaz told BBC Sport: "These stories are normal but there is absolutely no truth in them whatsoever.
"Cesc is happy for Thierry as they are friends. But he can't wait to start the season, he is a key man for Arsenal.
"Arsenal are going to buy a lot of good players and they are going to be a major team both in the Premier League and Champions League.
"At the moment Cesc is on holiday, but he is very excited about the new campaign."