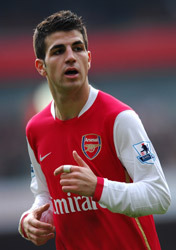 Arsenal's Spanish midfielder Cesc Fabregas is not interested in a move to Real Madrid or Barcelona, according to his agent.
The 20-year-old was rumoured to be attracting interest from both clubs amid reports he was becoming disenchanted with life at Arsenal following the £16.1m sale of Thierry Henry to Barca last week.
"These stories are normal but there is absolutely no truth in them whatsoever," his agent Joseba Diaz told BBC Sport.
"Cesc is happy for Thierry as they are friends. But he can't wait to start the season, he is a key man for Arsenal.
"Thierry was a very important player for them and it is normal that now he is no longer there, everyone thinks it is very bad news for the club.
"But Arsenal are going to buy a lot of good players and they are going to be a major team both in the Premier League and Champions League.
"Without Thierry, Cesc is one of the best players at Arsenal and this is fine for him, he is happy with the responsibility.
"At the moment Cesc is on holiday, but he is very excited about the new campaign."
Fabregas joined Arsenal from Barcelona in 2003, believing his first-team opportunities would be limited if he stayed at the Nou Camp.