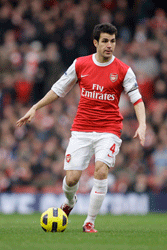 It's the Carling Cup final this weekend – see the best betting odds on EVERY Arsenal v Birmingham market here…
Cesc Fabregas would be fit to face Birmingham in the Carling Cup final on Sunday, according to his personal trainer.
Fabregas was substituted due to a hamstring injury during Arsenal's 1-0 victory over Stoke on Wednesday and, after the match, he wrote on Twitter: "I've waited too long to captain a final for Arsenal and I won't give up till the last second."
However, Arsenal manager, Arsene Wenger, has said Fabregas has no chance of featuring at Wembley at the weekend.
"It is a very small injury but certainly Cesc will be out for Sunday," Wenger told Arsenal TV. "For how long beyond that I don't know, but definitely for Sunday.
"He is disappointed. We all feel sorry and sad for him. The only way we help him now is to win the Carling Cup as he contributed a lot in this competition."
There have been suggestions that Wenger is taking a precaution to protect Fabregas for the Premier League campaign and, also, the second leg of Arsenal's Champions League tie against Barcelona.
The player's personal trainer, said in the Daily Mirror: "If the scanner confirms what we hope, Cesc can play in the Nou Camp on March 8 without problems, no doubt.
"We are optimistic after tests this morning. Cesc asked for the change (against Stoke) as a precaution. He noticed a strange feeling but it stopped. Cesc could play this weekend."
Arsenal will also be missing England international Theo Walcott, who sprained an ankle against Stoke.
Wenger said Walcott was likely to face up to two weeks on the sidelines.
"He has a classic ankle sprain. We don't think there is any more damage to it, but it is still a sprain," he said.
"We are sad for him too. He is out for Sunday and maybe one or two weeks more."
It's the Carling Cup final this weekend – see the best betting odds on EVERY Arsenal v Birmingham market here…
Take advantage of the sales by saving up to 36% on a subscription to World Soccer