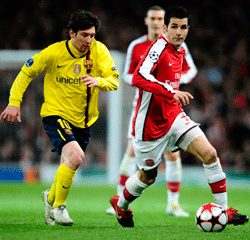 We could still be in for an all-English final as Fulham and Liverpool are into the semi-finals – Outright betting here.
Lionel Messi expects Cesc Fabregas to leave Arsenal eventually and return to boyhood club Barcelona.
Fabregas has been linked with a move to Camp Bou, but he has sought to play down the speculation, insisting he is hapy at Arsenal.
"Cesc has a place for Arsenal in his heart but he has Barcelona in his blood," Messi told the Daily Express.
"He will want to win the biggest prizes in football and I expect him to do that at Barcelona."
Fabregas is under contract to Arsenal until 2014 and has pledged his future to the club on a number of occasions.
Arsenal boss Arsene Wenger underlined the Spanish international's importance to Arsenal by appointing him club captain in November 2008.
Messi remains convinced, however, that the pair will be reunited once again at the Nou Camp.
"I don't exactly know when that will be, but I expect him to be my Barcelona team-mate again at some point," said Messi.
"I am sure that Arsene Wenger and Cesc have a father-son relationship and I know that he has a very special relationship with the Arsenal fans.
"When you grow up at a club, it is more than just a club. The coaches, the players, the people in the club will be like family.
"But Barcelona is his city and it is the club of him and his family. There are only a few players in the world who can improve this squad we have but Cesc is one of them."
No Premier League plans
Messi's performance in Barca's in 4-1 Champions League victory over Arsenal led Gunners boss Wenger to describe Messi as the "best player in the world".
Messi confirmed has no plans to abandon Spain for an English club – or any other.
"Will I play in the Premier League one day? I have said that I want to be at Barcelona for life," he said.
"I will be here for as long as they want me. I owe Barcelona more than for giving me a chance – I owe them for changing my life."
And the Barca star is confident his country can compete and could win the finals.
"Spain have amazing players, they are the champions of Europe and they will do well," he said.
"And I think it will be the same five or six teams as usual who will be the big threat.
"I really do believe that Argentina have amazing players, and I believe we can do it.
"Just as in any major international tournament you always need a little bit of luck to win it and we need to show we have a big heart."
We could still be in for an all-English final as Fulham and Liverpool are into the semi-finals – Outright betting here.
Make sure you don't miss any of the last news and articles from World Soccer. Subscribe to World Soccer today and take advantage of our all 50th anniversary offer, saving up to 50%!