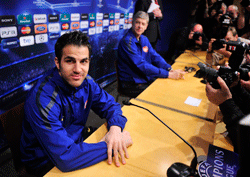 Arsenal are now a best price 14/1 for the Premiership after their 3-3 draw with Tottenham last night…
Arsene Wenger insists Cesc Fabregas' words were taken out of context after the captain was quoted telling a Spanish magazine that Arsenal must sign experienced players if they are to win trophies.
Fabregas spoke to Don Balon and was quoted as saying Arsenal must make a choice between winning trophies and relying on youth development.
The Spaniard also appeared to be questioning the future of Wenger at the club, when he suggested that the longstanding manager would have been sacked by now if he had been working in Spain.
Fabregas, though, wrote on his Twitter account in the aftermath that the remarks had been distorted. "Incredible that people try and twist everything to make headlines," he wrote. "Arsene Wenger has had a huge impact on me and my career. Great man."
Wenger has now claimed that the original article in Spain misrepresented Fabregas and that the author reneged on a prior agreement to provide the club with the chance to approve the piece.
"The article bothers me," Wenger said. "This was an article organised by the club with a check viewing of the article. Not only did the author not respect the agreement, but also he did twist completely the article and we are really upset about it.
"It is unprofessional and disappointing. I know Cesc well enough and I don't need to tell you more. It was not an attack on my philosophy. That is not what he said. He said completely the opposite."
He added, smiling: "Our job is talk little, do a lot. Your job is to talk a lot.
"We have to accept there will be controversy but we have to be strong to deal with it."
Wednesday's 3-3 draw with Tottenham means that Arsenal have now fallen behind Chelsea into third place, but Wenger is refusing to admit defeat in the title race.
"The title race is completely open," he said. "This team has a remarkable attitude, and even if at the moment we do not have the number of points, we are remarkably consistent and it was a difficult game.
"With an average performance, we would not have come away with a point. We are on a 16-game unbeaten run but recently we haven't got enough points because of too many draws. That's what we want to turn around until the end of the season.
"Chelsea are now back in the race. Chelsea play Man United and Tottenham but it's down to us. We have to keep our faith and keep battling."
On the draw at Spurs, he added: "It's disappointing because we had the lead and we were caught from being 3-1 ahead. The attitude was fantastic and we played the game we wanted to play.
"It's frustrating that we conceded three goals because, especially in the first half, we controlled the game. I don't think 3-2 reflected the first half – they didn't create a lot in the first half."
Arsenal are now a best price 14/1 for the Premiership after their 3-3 draw with Tottenham last night…