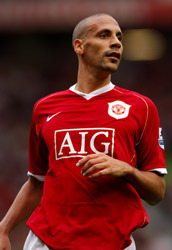 For Premiership, Champions League, Uefa Cup and Football League odds click here.
Manchester United defender Rio Ferdinand has admitted that he feared he would be sold by Sir Alex Ferguson after being photographed with Chelsea chief executive Peter Kenyon.
The England international was pictured with Kenyon at a restaurant last year, prompting speculation he could be on the verge of a move to the Premier League champions.
Ferdinand immediately saw the negative aspect of being snapped with Kenyon and wanted to see Sir Alex as soon as possible, but it was too late.
Ferguson demanded to see Ferdinand to find out what was happening.
"I feared the worst when the picture was in the papers and decided that I would go and see the manager when I arrived for training and explain," he said in his book, which is being serialised in The Sun.
"I didn't need to. He called me in first thing and went absolutely bananas. He said 'what the hell's going on?'
"He hammered me and quite rightly. I got the treatment. I'd never seen him so angry; it was far worse than when I missed the drugs test. Much worse.
"I couldn't say a lot because I was in the wrong. I just said again 'boss, I don't want to sign for nobody. I want to sign for Man United. I told you at the beginning I want to sign for United'.
"For a moment I was worried he was going to say, I'm going to sell you.
"The meeting went on for 15 minutes and he was going: 'You know how people will interpret it. It doesn't matter what you said.
"It doesn't matter if you were talking about the price of milk, the time of day or the colour of the table you were sitting at. It's just so stupid of you to go there and meet Kenyon'."
For Premiership, Champions League, Uefa Cup and Football League odds click here.