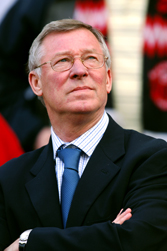 Sir Alex Ferguson admits he understands the frustration of irate Manchester United fans after his side's 1-0 Champions League defeat by Lille.
United were booed off the field by several thousand travelling supporters but Ferguson said he could sympathise with their reaction.
He said: "Without question, those fans want to see us win. They have followed us through thick and thin.
"They were like that when we had not won the title for 20 years and I am sure they will be like that again."
United are now third in Group D and Ferguson admits his side are fighting for their lives in this season's Champions League.
"We are going to have to regroup and win our next two matches against Villarreal and Benfica because they are vital now," he continued.
"Our home form has been terrific and it is going to have to be again. We are third in the group now and these games will be so important.
"We were not in our best form, that has to be said. We are going to have to fight our way through this.
"No-one's going to help us with that. We are going to have to do it ourselves and we don't want to feel sorry for ourselves – although I don't think we deserved to lose."
Ferguson was unhappy with the impotence of United as an attacking force.
"It is a concern, but our goalscoring has not been great, either this season or last," he added.
"We do make chances, we have seen that in some league games, but we have players who can score goals and hopefully we can get that magic back.
"The players did their best. We lost a goal just when we were starting to get to grips with the game.
"I think when you lose games confidence does get affected, but we have to pull ourselves through this."
In the wake of back-to-back defeats, United's clash with Premiership leaders Chelsea on Sunday now takes on an added dimension.
"It is not an easy game, simply because Chelsea are in outstanding form," he conceded.
"They are top of the league and are there on merit, but we have the ability to change that.
"The most important thing is for us to bring back the confidence, bring back the winning habit."
Subscribe to World Soccer – The essential football magazine