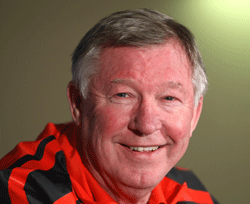 The Premier League is back this weekend and easyodds have the best betting on EVERY fixture here…
Manchester United boss Sir Alex Ferguson says managers should be free to discuss performances of officials, providing any criticism is merited.
Ferguson was recently handed a five-match touchline ban and £30,000 fine by the Football Association for criticising referee Martin Atkinson.
The Scot told ESPN: "If you speak your mind it's a problem in the game. The FA are very strong in supporting referees.
"In a way I totally agree with that, but there's got to be fair comment."
Ferguson was found guilty of improper conduct after he expressed his frustration at Atkinson's display in the 2-1 Premier League defeat by Chelsea at Stamford Bridge on 1 March.
"You want a fair referee – or a strong referee, anyway – and we didn't get that," he said immediately after the match.
Craig Moore, chairman of the FA commission that sanctioned the Manchester United manager, wrote that Ferguson had "undermined the FA's Respect campaign" and added: "Respect for referees' integrity is essential for the integrity of football."
Despite his punishment, Ferguson has refused to take his punishment lightly and has continued to complain about the performance of officials in recent fixtures.
"I think the last few games we've had terrible decisions against us and you've just got to be careful you don't have paranoia about it," said Ferguson.
The five-match touchline ban began with United's 1-0 win over Bolton at Old Trafford on 19 March.
The Premier League is back this weekend and easyodds have the best betting on EVERY fixture here…