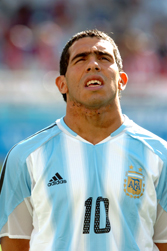 Sir Alex Ferguson has revealed his growing frustration with the length of time it is taking for Carlos Tevez to complete his move to Manchester United.
A dispute between West Ham and Tevez's agent Kia Joorabchian has held up United's attempt to sign Tevez, and Joorabchian's Media Sports Investments group has now issued a High Court writ against The Hammers in order to push through the transfer.
"It's at the right place where hopefully the right decision comes about and we can get on with our business," he told Sky Sports News.
"I'm confident we'll get the player, David Gill (chief executive) is also confident. It has been dragging on and it has been frustrating.
"Particularly as the deadline's at the end of August, therefore we have to think about alternative plans.
"I think we're confident the player will arrive. Hopefully for both sides it gets settled quickly."
Meanwhile, Ferguson will hold talks with Gabriel Heinze when the player reports back for training on Monday.
The Argentinian defender has been linked with a move to Liverpool, although Ferguson refuses to sanction a move to one of his domestic rivals.
"There's nothing really to report. Gabriel Heinze is due to come back next Monday," Ferguson continued.
"Once I have a meeting with him we'll be clear about what his intentions are, because they are a bit unclear."