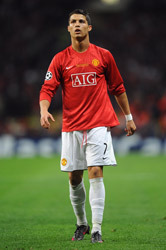 Premier League 2008/09 – click here to read full betting preview!
Manchester United manager Sir Alex Ferguson has attempted to draw a line under the protracted Cristiano Ronaldo transfer saga that has rumbled on throughout the summer.
Ronaldo's future at United has been the subject of constant speculation since the end of last season with the Portuguese winger refusing to commit himself to the club.
Real Madrid have made it clear they wish to sign Ronaldo and reports in Spain have claimed the player would inform Ferguson he wanted to leave Old Trafford for Madrid when he returns to the club later this week to undergo treatment on his ankle injury.
However, Ferguson insists that last season's top scorer would not be leaving the club and claims the whole saga is now finished.
"The matter is closed now," said Ferguson.
"He is a Manchester United player, it's finished.
"He is going to play here believe me."
Ferguson also revealed he is no closer to finding a new assistant manager as a replacement for Carlos Queiroz.
Queiroz left United to take up the manager's role with his native Portugal, and Ferguson says the club will not be rushed into getting a new assistant.
"No news [on a new assistant] we take our time with that," added Ferguson.
"We hope to have someone in by the end of September but we never rush these things. It is hard to replace good men.
"We have good coaches here, I have no problems with that aspect of it.
"I am just looking for a particular type of person to assist me in certain ways."