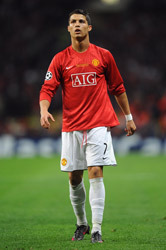 We've already got some early prices on this summer's Euro 2008 group games. Click here for all the BestPrice odds.
Sir Alex Ferguson has told Real Madrid that Cristiano Ronaldo is staying with Manchester United.
Following his contribution to United's Champions League victory over Chelsea on Wednesday, Ronaldo has once again been linked with a move to Real.
Reports claim that the Spanish champions are willing to spend a world record fee to lure the Portuguese winger to the Santiago Bernabeu.
The player himself has been non-committal about his future at United, although he did confirm on Friday that he was happy at United and expected to stay.
Now Ferguson has declared that there is no chance of Ronaldo following in the footsteps of several former United players to the Spanish capital.
"I read last night that Calderon's talking, Schuster's talking and they use this Marca as their vehicle to unsettle players," Ferguson told Sky Sports News. "The simple facts are he's got another four years left on his contract, that's the first thing.
"When you want to keep someone you work hard to do it.
"That is a fact not lost on Manchester United, but it is a fact not lost on Real Madrid either.
"In terms of great clubs, the clubs with great moral issues, like Barcelona, have far better moral issues than Real Madrid will ever have.
"They're not the only club Real Madrid who are interested in Ronaldo. Do you not think we've had many interest from big clubs in Europe in our best players?
"Of course, but they don't get into the nonsense they get into. They have no moral issue at all, they think they can ride roughshod over everyone and they won't do it with us.
"We sold them Ruud van Nistelrooy and David Beckham because we wanted to."
There have also been question marks over the futures of Louis Saha and Gerard Pique, but Ferguson insists he is not intending to break up his current squad over the summer.
He added: "We will not be moving anyone out.
"It is not something I have even thought about.
"I just need to look at the squad and know I have enough cover for next season as we have three extra games, one in the Super Cup and two in the World Club Championship to cope with."
We've already got some early prices on this summer's Euro 2008 group games. Click here for all the BestPrice odds.