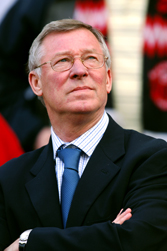 Manchester United manager Sir Alex Ferguson plans to be in charge of the club for at least another three years.
Ryan Giggs, who recently signed a new contract keeping him at the club until June 2008, confirmed that Ferguson wants to stay for the same duration.
"When he was encouraging me to sign he indicated that he'll be here for at least that period of time," Giggs said.
"He wants to see the likes of Wayne Rooney, Cristiano Ronaldo and Darren Fletcher become world-class players."
Ferguson begins a one-year rolling contract this summer having been in charge at Old Trafford since 1986.
There has been speculation that Ferguson would use the furore surrounding Malcolm Glazer's takeover of the club as a means to sever his ties with United, but Giggs has dismissed such talk.
"The manager said he wants to stick around for a number of reasons," Giggs said.
"He also wants to win more trophies and make sure that when he does eventually go, he goes out on a high.
"What sets him apart is his hunger to improve, both for himself and his team," Giggs added.
"All the players see that in the gaffer. That's why he keeps on going. That, and his will to win."
Speaking ahead of Saturday's FA Cup final againt Arsenal, Ferguson has urged United supporters to cast aside their reservations about the Glazer takeover and get behind the team.
"I do not know if they (the Glazers) will be there, but they will be watching from the States I am sure of that," he told the League Managers Association website.
"It will give them an idea what Manchester United is.
"And when, hopefully, they see our fans celebrating and see the atmosphere of that, it will be wonderful."