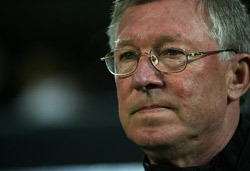 It's getting desperate for Burnley, Hull and West Ham at the foot of the Premiership – click here for the best relegation betting
Sir Alex Ferguson criticised the behaviour of Bayern Munich's players after Manchester United crashed out of the Champions League.
Ferguson claimed Bayern deliberately attempted to injure Wayne Rooney, and convinced the referee, Nicola Rizzoli, to send off Rafael da Silva for a second bookable offence.
United, who won 3-2 on the night but went out on the away goals rule after drawing 4-4 on aggregate, appeared to be cruising through to the semi-finals when they led 3-0 after 40 minutes thanks to one goal from Darron Gibson and a Nani brace.
But Ivica Olic reduced the arrears just before the break and Rafael was then dismissed for a second booking early in the second half. A stunning volley from Arjen Robben saw the visitors through.
Ferguson was unhappy with the way in which the Bayern players had put pressure on the referee to show Rafael a second yellow card after pulling back Franck Ribery.
"The young boy showed a bit of inexperience, but they got him sent off, everyone sprinted towards the referee – typical Germans," he said. "They were never getting through that tie. With 11 men, we had no problem."
Asked if he felt the Germans had targeted Rooney's problematic ankle, which was supposed to sideline him for two to three weeks, Ferguson said: "I think that's obvious."
"I don't think there was anything serious, but there were a couple of challenges. We expected that, and the referee should have handled it."
"It is hard to digest something like that. It was a top performance. In one way you could say we have thrown it away; in another you could argue we were very unlucky."
Ferguson's allegations were dismissed by Bayern coach Louis van Gaal.
"I thought England was noted for fairness," Van Gaal said. "I have been confronted with three comments. It is not what I call fair play. I do not share Sir Alex's opinion. Control is part of being a professional footballer. Every player must know his job.
"If you pick up one yellow card, a second means a sending off. Every player should know that and it was a yellow card offence. It was the player who made the foul. As for United winning with 11, we will never know that, neither Sir Alex nor me, because this game will not be played again.
"It is easy to say these things after a loss."
Fergusopn also denied suggestions that he had played mindgames with Bayern before the game, by suggesting that Rooney had no chance of being fit to start the game.
"He had a training session yesterday and did everything we could have asked of him," he said. "The medical people thought there was no danger, other than he might feel it in the second-half, so we felt it was worth the risk.
"Unfortunately he went over on the ankle again. There were a couple of challenges on him and I don't think he got any protection from the referee but it is not too serious.
"I don't think he will be ready for Sunday but he should be available for next week."
It's getting desperate for Burnley, Hull and West Ham at the foot of the Premiership – click here for the best relegation betting
Make sure you don't miss any of the last news and articles from World Soccer. Subscribe to World Soccer today and take advantage of our all 50th anniversary offer, saving up to 50%!