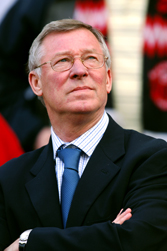 Manchester United manager Sir Alex Ferguson has confirmed he will be strengthening his squad when the transfer window opens in January.
Despite United's 1-0 win on Sunday over runaway Premiership leaders Chelsea, Ferguson believes he needs to strengthen his squad if his team are to mount a sustained challenge for the league this season.
"What I will be looking to do is increase the squad in January. It's actually numbers we're lacking," said Ferguson.
"But you have to dismiss the possibility of getting players from clubs who think they can win the Champions League.
"That narrows down your options but we're playing the numbers game right now.
"I'm happy with the quality we have but we're relying too much on our younger players at a time when we're missing the experience of Roy Keane, Gary Neville and Gabriel Heinze."
United have been linked with Real Madrid's Thomas Gravesen and Bayern Munich's Michael Ballack, but with both clubs still involved in the Champions League, neither willl be prepared to sell in January.
Subscribe to World Soccer – The essential football magazine