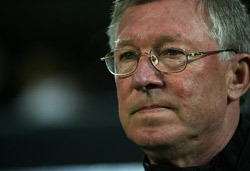 Man United are now a best price 8/11 to win the Premiership after their 2-1 defeat to Chelsea last night…
Sir Alex Ferguson expressed his anger at referee Martin Atkinson after he felt "a lot of decisions" went against Manchester United in their 2-1 defeat to Chelsea at Stamford Bridge on Tuesday.
Ferguson was unhappy with the referee both for awarding the match-winning penalty for Chelsea and for not sending off David Luiz moments earlier when he fouled Wayne Rooney.
Rooney opened the scoring in the first half and Luiz levelled matters before Frank Lampard converted from the spot after Chris Smalling was adjudged to have brought down Yuri Zhirkov. But Luiz, already on a yellow card at the time, was lucky to escape further punishment for challenges on Rooney and Javier Hernandez.
"You hope you get a strong referee in games like this," Ferguson said. "It was a major game for both clubs. You want a fair referee – or a strong referee, anyway – and we didn't get that. I don't know why he has got the game. I must say, when I saw who the referee was I did fear it. I feared the worst.
"It's hard to take. The Luiz foul was six yards in front of the referee, maybe eight if we give him the benefit of the doubt, no obstructions whatsoever. I don't know how he stayed on the pitch. And the penalty was very soft. In actual fact, Chris has taken the ball and the player's left his leg in. Very soft. Amazing."
On the Luiz trip on Rooney, he added: "It was incredible. Even before that he'd done Chicharito (Hernandez) off the ball. He'd done him late. Nothing done, the referee's in front of it. 'He does Rooney clear as day, (the referee is) six yards from it, he doesn't do anything. That changed the game. These are decisions that change the game. And he's going to be refereeing every week.
"But I'm proud of the players. They've endured a lot of decisions against them but they've come through it, they've done their best. They've created good chances. They didn't deserve that."
Asked if Chelsea were back in the title race, he added: "If they get decisions like tonight then it can change everything. They got a lot of decisions tonight that surprised me."
United defender Nemanja Vidic was sent off late in the game after collecting two yellow cards and will miss Sunday's trip to Liverpool, a match Rio Ferdinand will not be fit for either.
"I don't think Rio will be fit for Liverpool," said Ferguson. "Wes Brown will take over."
Chelsea boss Carlo Ancelotti admitted Luiz had perhaps been fortunate.
"There was a lot of intensity and it was not easy for the referee to decide every time," he said. "David Luiz could be lucky but there was a lot going on on the pitch so the referee decided he didn't see this.
"The referee took some decisions, but I don't want to judge them. I don't like doing this.
"Luiz's performance was very good, confirming the performance he made against Fulham. He scored an important goal, the key to the game, and he's a very good player."
Ancelotti said of the 12-point gap to United: "It's too far, it's too far. But this victory is important for us and our confidence. We can't think about arriving at the top at this moment.
"I cannot believe we are this far behind, but we have to be honest. This is where we are in the table, and United have played with more consistency than us."
The Italian admitted United had been the better team in the first half and praised his side's resilience.
"They showed great spirit because it wasn't easy coming back into that game," he said. "United are fantastic on the counter-attack, so we needed to strike a good balance."
Man United are now a best price 8/11 to win the Premiership after their 2-1 defeat to Chelsea last night…
Take advantage of the sales by saving up to 36% on a subscription to World Soccer