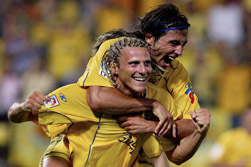 Diego Forlan says he feels under no pressure at Atletico Madrid after the Uruguayan striker was signed as a replacement for the departed Fernando Torres.
Fernando Torres, who enjoyed iconic status at Atletico, has moved to Liverpool, and Forlan has been signed from Villarreal as his successor.
"It's understandable that people are trying to compare us, but I'm very relaxed about it because we are different players at different moments in our careers," he said after signing a four-year contract on Tuesday.
"Ever since I started playing football I've had the responsibility of playing well and you always work hard to ensure you can do the best you can.
"There are times when things are better or worse, but you train hard to ensure they work out well."
The 28-year-old joined Atletico from Villarreal for a fee of between €21m and €23m.
"This is a club with a lot of history and it is a great challenge for me," said Forlan. "I want to keep things as simple as possible and help the team with plenty of assists as well as goals."
The Uruguayan had a successful three seasons at Villarreal, ending his first campaign as the top scorer in the La Liga with 25 goals and adding a further 29 in the next two seasons.