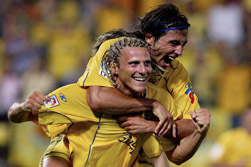 Villarreal striker Diego Forlan believes he has finally silenced his critics after ending the season with 25 goals to share the ESM Golden Shoe with Thierry Henry.
Forlan was dubbed a failure following his move from Independiente to Manchester United, but a switch to Villarreal has revived his fortunes with the Uruguayan scoring more goals than the entire Old Trafford attack put together this season.
Forlan has hit out at United boss Sir Alex Ferguson for failing to give him a proper run in the team.
"I was never given a proper run in the side by Ferguson to show what I could do," Forlan told The Sun.
"I never got a chance to feel settled in the team.
"At Villarreal it is totally different and I have played almost every game this season.
"I have scored more goals than anyone else in Spain and I am going to enjoy this.
"The main reason is that I am playing. I had a run of six or seven games with United and I was scoring goals but then I wouldn't play.
"It is difficult for a striker to stay sharp like that.
Forlan faces the possibility of a reunion with United next season. His scoring exploits helped Villarreal to third place in La Laiga, meaning an encounter against his former club cannot be ruled out.
"Now I just hope I can return to Old Trafford in the Champions League next season," he added. "They will be in the draw with us so we could come out of the hat together."
The Uruguayan shares the award with Thierry Henry, who beciomes the first player to win the award in successive seasons.
"I love to make history," Henry told The Sun. "To be the first player to ever have done this for two years in a row is a special honour.
"Hopefully I will one day be remembered as a player who made an impact.
"I scored 25 goals in 31 Premiership games and that is good. I feel I am proving to be a consistent player and to win this award twice in a row shows this."