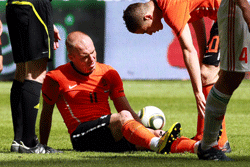 Joe Kiddle gives his top tips for tonight's Copa Del Rey 2nd leg between Real Madrid and Sevilla
Bayern Munich have agreed to play Holland in a friendly in May 2012 to compensate the German champions for the loss of Arjen Robben to injury in the first half of this season.
Bayern have been in dispute with the Dutch Football Association (KNVB) ever since Robben returned from the World Cup in South Africa last July with an aggravated thigh muscle injury.
It kept him out of football until January and Bayern have now agreed to resolve the matter with a friendly against the Dutch national team on May 22, 2012.
"We are glad to have settled the issue," said Bayern's chairman Karl-Heinz Rummenigge in a statement.
"It is good for the football community that we have found a fair and satisfactory solution."
The Dutch will use the match as a warm-up for the Euro 2012 tournament set to be held in the Ukraine and Poland and which starts on June 8, 2012 in Warsaw.
"We have accepted that we could not reach an agreement in general discussions, so it was best to settle our differences and to search for a viable solution for both sides," said Bert van Oostveen, the CEO of the KNVB.
"We have done that, we are satisfied with the result and we look forward to a great friendly match in Munich."
Joe Kiddle gives his top tips for tonight's Copa Del Rey 2nd leg between Real Madrid and Sevilla
Take advantage of the sales by saving up to 36% on a subscription to World Soccer