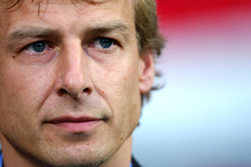 German Football Federation president Theo Zwanziger said they will do everything in their powers to convince Jurgen Klinsmann to remain as national team coach.
Klinsmann's contract is set to expire on Sunday and he has still not reached a decision about his future plans, despite taking Germany to third place at the World Cup.
"All I can do is to promise the German supporters that the Federation will do everything to keep Klinsmann," he said.
"I do not intend to set up a plan B, it is not necessary yet."
"It would be particularly bad to quote other names. The only name that is important is Jurgen Klinsmann and we have not fixed any deadline for him to decide."
After Germany's elimination from the finals, Klinsmann said he wanted to talk to his wife before deciding whether to stay in his current post.