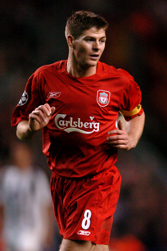 Liverpool midfielder Steven Gerrard admits his international partnership with Chelsea's Frank Lampard has yet to click.
The failure of the pair to gel has been one of the main frustrations for Sven-Goran Eriksson during the closing stages of England's World Cup qualifying campaign.
Gerrard even admitted that he had feared being dropped after a dismal display in England's 1-0 defeat to Northern Ireland last month.
"I don't think many players performed and I'm no different," he admitted as England prepared for Saturday's qualifier against Austria at Old Trafford.
"It was a worrying time in that dressing room after that game. It was the lowest point I've had with England."
Both Gerrard and Lampard play similar roles for their clubs but they have struggled to reach an understanding at international level.
To accomodate both players attacking instincts, Eriksson introduced a 4-5-1 formation against Northern Ireland with David Beckham playing the holding role behind Lampard and Gerrard. But the system was deemed a failure and England are expected to revert back to 4-4-2 for the match against Austria.
"I think I am naturally a little bit more defensive than Frank and he is more forward thinking," added Gerrard.
"That is how it will work but what the manager does want is if one breaks forward for the other one to be disciplined and stay.
"It worked well at times in Euro 2004. Frank's form was really good in the tournament. But I wasn't good enough in that tournament. The idea for me is to get the team to the World Cup and hopefully you will see a different player in that tournament.
"If someone has to adapt and be a little more defensive-minded for the good of the team we need to make sure between ourselves that that happens.
"It is strange. Me and Frank have been kicking lumps out of each for the past week and now we have got to be best of mates and improve this relationship in the middle of the park. But there is no friction.
"Liverpool versus Chelsea are massive games and you know the tackles are going to be flying in and the tempo is going to be quick but when you meet up everything is forgotten.
"There is a lot of pressure for me and Frank to perform, not just score goals, but perform at this level. Frank is Chelsea's so-called important player and people say I am Liverpool's.
"When we come together maybe we are trying to do the same job but the most important thing is to get results for England. It is not about me or Frank Lampard."