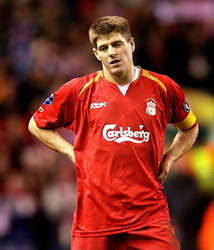 Spanish heavyweights Barcelona and Valencia do battle tonight in the Copa Del Rey. Click here for all our markets on the game!
Steven Gerrard has delivered a withering critique of Liverpool's current campaign, conceding that even another Champions League triumph will not compensate for their dismal performance in the Premier League.
The Liverpool captain accepts that only fourth place now is acceptable as they battle to secure entry into next season's Champions League.
"You don't get any prizes in football for finishing in second place, never mind fourth,' he admitted.
"I don't think that the fans would accept fourth as an accomplishment and for me it's not nearly good enough. We need to improve dramatically and even if we do finish fourth, it doesn't mean we have had a good season.'
Gerrard admits Liverpool are now involved in a battle for fourth spot with neighbours Everton as well as Aston Villa, Portsmouth and Manchester City.
Speaking to LFC magazine, Gerrard expressed his dissatisfaction with the way the season has panned out.
He said: "In the position we find ourselves now, fourth is the least that is acceptable. But we have bigger ambitions than that.
"The only way we can fulfil those ambitions is in the Champions League. And I am not going to pretend that even winning that trophy – and we are a long way away from it at the moment – will make up for the disappointment of the league campaign.
"I'm pretty gutted every time I look at the table and see the gap between us and Arsenal at the top, and even the gap between us and second and third. We believed we had the players to challenge for the title, and we wanted that one more than any other trophy available to us. I still believe we have the squad to be a hell of a lot more competitive than we are right now.
"I'm getting tired of saying the same thing over and over again. We can't keep talking about next season all the time. There are only so many times you can say it and believe it. Sooner or later we have to make one season the season we make it happen and do the talking on the pitch. We need to make people believe it. I'm 27 now, I don't want to be talking about 'next season' for Liverpool when I'm 32.
"If you asked most of our fans, they would rather see the title than the European Cup at Anfield. We've not won it in a long, long time.
"Looking at the league table hurts. This time last year we were third and Arsenal were fourth, and that is the way the season ended. It hurts to see where Arsenal are now.
"We've got the stadium, the fans, the manager and the players to compete for the Premier League. But we have no chance of doing that if we are always well out of it by the first week in January.
"And at the moment we have our work cut out fighting it out with Villa, Everton and Manchester City for fourth."
And he added: "Only we can make this season a success now. We'd like to finish fourth and win the European Cup again.
"But the demands of being a Liverpool player, the expectations that come with the privilege of pulling on that jersey mean we've got to improve. You make your own luck, shape your own destiny. And now we soon have massive games at Manchester United and Arsenal, knowing we can't win the league.
"We are not bothered about whether we have an impact on the title race we're not in. But winning at both those places would send out a message for next season. That would lay down a marker that no-one would ignore."
Gerrard also lamented the fact that the well-documented problems off the pitch had given 'those in the media who don't like Liverpool' the chance to criticise.
"We have made it easy for them," he said. "It's not been a good situation (the takeover speculation) for anybody. It's sad so much of the club's business has been conducted in public. The club I have grown up supporting always did its business behind closed doors, and that is what we have to get back to.
"It's been a damaging situation for every single person involved with the club, fans, players, bosses, owners, from top to bottom."
Spanish heavyweights Barcelona and Valencia do battle tonight in the Copa Del Rey. Click here for all our markets on the game!