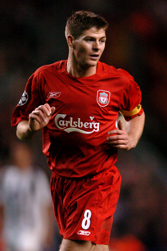 Liverpool captain Steven Gerrard has told the club that he wants to leave Anfield.
"The club has made it crystal clear we want to keep Steven at Anfield. Sadly, he has told us this afternoon that he will not accept our offer of an improved and extended contract because he wants to leave Liverpool," the club said in a statement.
"We very much regret the decision he has taken."
Liverpool said earlier today they had rejected a £32m bid for Gerrard from Premier League champions Chelsea.
Gerrard delivered the news to Liverpool chief executive Rick Parry via his agent, Struan Marshall.
And Parry said: "We desperately want to keep Stevie and we've told him we don't want him to leave. However, in rejecting our offer of a new contract he has indicated he wants to go."
Gerrard was in talks with the club to extend his current deal, which has two years left to run, when his agent announced that negotiations were ending and were "unlikely to be re-opened".
Later, Gerrard had a meeting with chief executive Parry and chairman David Moores, who made a last-ditch offer of £100,000-per-week to keep their captain at Anfield. But Gerrard told Parry on Tuesday he wanted to leave.
Chelsea will face competition for his signature with Real Madrid, who said Gerrard would have to put in an official transfer request before they got involved.
Gerrard's announcement clears the way for a bid from Spain, possibly in a part-exchange deal with the likes of Luis Figo or Guti.